Fennel Butternut Roast with Barley & Seitan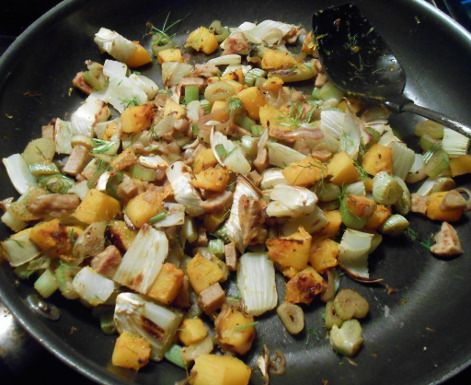 1 cup pearl barley, rinsed
3 cups vegetable broth
8oz. seitan, preferably homemade, diced
2 medium shallots, sliced thinly
2 medium fennel bulbs (see below for prep instructions)
1 medium butternut squash, peeled, seeded and diced
Preheat the oven to 400F.
Place the barley and vegetable broth in a small saucepan and bring to a boil. Lower the heat and simmer, covered, for 45 minutes or until the liquid is absorbed and the barley is tender. Set aside, covered.
Cut the stems and fronds off the fennel bulb. Chop the bulb into large pieces and place them on a parchment-lined baking sheet along with the butternut squash. Place the pan in the oven and roast for 30 minutes, stirring once, until the vegetables are tender and starting to brown.
Meanwhile, place the seitan in a large skillet over medium heat and cook, stirring occasionally, until browned, about 5 minutes. Set aside.
While the seitan is cooking, slice the fennel stems into thick pieces. Reserve the fronds.
Place the shallots in the same skillet that you cooked the seitan in and cook over medium heat, stirring occasionally, until browned, 3-5 minutes. Add small splashes of water to the pan to keep the shallots from sticking, if necessary. Toss in the fennel stems and continue to cook for 10-12 minutes, until the stems are beginning to soften.
When the fennel and butternut are done roasting, remove them from the oven and carefully transfer them to the skillet. Add the reserved seitan and cook until heated through, stirring often.
Chop the fennel fronds and toss about half of them in the pan. Turn off the heat and stir to incorporate. Season with black pepper. Stir the rest of the fronds into the barley when it's done cooking.
To serve, plate the barley and top with the seitan and vegetable mixture. Freak out at how awesome it tastes.
Recipe by
GreenGut Wellness
at https://www.greengutwellness.com/2013/10/27/vegan-fennel-butternut-roast/