I would love to be able to blog about all the awesome things I've been doing–especially awesome things I've been cooking–but alas I've spent the past five days trying to beat a nasty bout of the stomach bug. Out of all the diseases it's possible to contract, stomach flu frustrates me the most! Cooking, baking, and eating are such big parts of my life that it's a huge bummer to be relegated to the land of animal crackers and rice.
On the upside, there has been Yogi Tea's ginger tea. In order to avoid sounding like a commercial for it, I'll just say this: YUM, whether or not you have a stomach ache!
I have managed to do a couple of things. Before I got sick, I made these: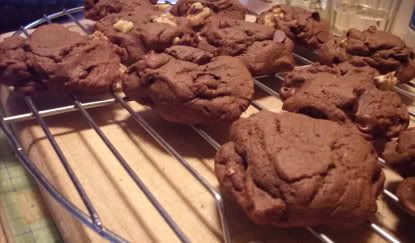 Chocolate Agave Trail Mixers, from the fabulous Vegan Cookies Invade Your Cookie Jar.
(I'll gush about this book at length in a later post.) Agave nectar was on sale at the local co-op this month and, never having used it, I decided to pick some up and grab the tastiest-sounding test recipe I could find. I used walnuts and left out the dried fruit, as I was lacking dried cherries and am not a fan of raisins and chocolate together.
Yes, they're good. They're amazing, in fact. My mom and I have been gobbling them down every chance we get.
As a side note, this was also the first time I had cause to use ground flax seeds as an egg replacer, and I really like the way it came out. The texture is perfect for cookies. (I'm sure all you more experienced vegan bakers out there are laughing at my happy surprise!)
I also updated the layout of the blog–I've always been a sucker for notebooks, even digital ones. There are still a few things that need tweaking, but overall I'm happy with it. Let me know what you think!
That's all for this rather short post. I'm hoping to do more cooking over the weekend, and maybe whip up some brownies next week. Here's to being able to eat real food again!