It's been a bizarre winter here in QV land.  Actually, to look at it, it's been a bizarre winter pretty much everywhere.  One day its 50F and raining like crazy, and a few days later it's barely into the single digits with wind chills that'll literally take your nose off if you're not careful.  Needless to say, it's been difficult if not impossible to acclimate.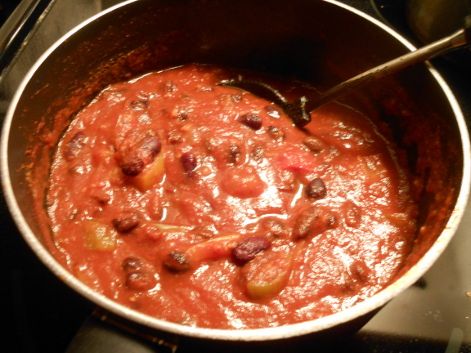 The whacky weather also makes for weird food choices.  Warm, wet days aren't really ideal for most one-pot "winter" meals while those frigid stretches just beg for something warm.  That's where this 2-Bean Chipotle Chili comes in.  As if we need an excuse to eat more spicy food, right?  It's a pretty standard chili–beans, tomatoes, peppers, onions–with the added zip of dried chipotles.  Use one for smoky flavor and two for hot, and simmer it as long as you have time for to intensify the flavors.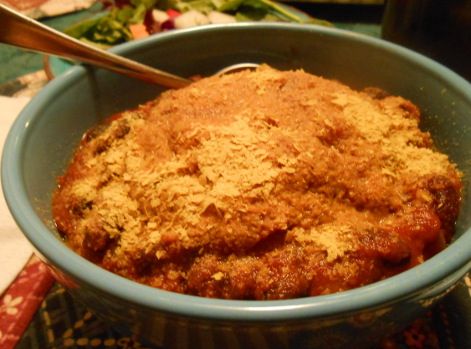 As with most chilis, this one is good served over rice or (my personal favorite) with corn muffins on the side.  Or you can just eat a huge bowl of it straight up and enjoy breathing fire for a few hours afterward!
2-Bean Chipotle Chili
Author:
Prep time:
Cook time:
Total time:
Ingredients
2 cloves garlic, pressed or minced
1 cup onion, chopped
1 1/2 cups bell peppers, any color, chopped
1-2 dried chipotle chiles, soaked in hot water until soft, seeded and chopped
2 Tbsp. chili powder
2 tsp. cumin
pinch of oregano
1 1/2 cups or 1 15oz can dark red kidney beans, drained and rinsed if canned
1 1/2 cups or 1 15oz can black beans, drained and rinsed if canned
1 28oz. can crushed tomatoes
1 cup water
black pepper to taste
Instructions
Place the onion, garlic and bell pepper in a large saucepan over medium-high heat. Cover and cook until softened, stirring occasionally, about 5 minutes. Add the chili powder, cumin, oregano and chopped chipotle chilies and cook, stirring, for 30 seconds more.
Pour in the crushed tomatoes, then add the beans and the water. Stir well to combine. Cover and bring to a boil. Reduce the heat and simmer, uncovered, for 25-45 minutes as time permits to blend the flavors. If the mixture gets too thick, add more water or put the cover back on as it cooks.
Taste and adjust seasonings if necessary. Sprinkle with black pepper to taste and serve over rice or with corn muffins and a generous sprinkling of nutritional yeast.
In addition to making really hot chili, I've been super ridiculously busy with the Nutrition Consultant program I enrolled in over the summer.  It's absolutely fascinating but also involves a ton of work between reading, lectures and homework assignments.  The program is broken up into three "modules:" Foundations of Nutrition, Therapeutic Nutrition, and an "internship" which consists of teaching a series of classes.  Currently I'm working my way through Therapeutic Nutrition, which not only involves learning the material but also applying it to extensive homework projects that include referenced "condition reports."  Right now I'm writing one on heavy metal toxicity and my brain is certainly feeling the workload!
Next step: seeing "client" #1, another form of practical application where I get to work with someone through a series of practice sessions to get a feel for how the whole consulting thing will work on an ongoing basis.  The first module had a client assignment as well, but it only went as far as the initial meeting.  This assignment includes several follow-ups and a whooooole lotta paperwork.
So.  Perhaps I'm in over my head.  But I'm loving it.  Please bear with me if the blog is a bit slow through this!