Mac and "cheese" is one of those recipes that pops up in just about every vegan cookbook.  I must have ten or twelve different versions of it hanging around in my cookbook collection, and every one takes a slightly different approach.  The Forks Over Knives cookbook has a pretty standard one using its own "No-Cheese Sauce," but if you flip over a couple of pages, you discover something a bit different: Southwestern Mac and "Cheese."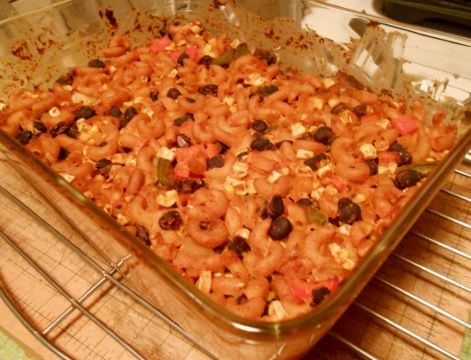 You really couldn't ask for an easier way to spice up mac and cheese–literally.  Starting with the basic elbow macaroni, preferably of a whole wheat or brown rice variety, and of course a "cheese" sauce, the recipe takes a Mexican-style turn with the addition of black beans, peppers, onions, corn and zesty jalapeno.  Seasoning-wise, it leans toward spicy with ancho chili powder and adds a touch of earthy flavor with cumin.
Ancho chili powder continues to elude me.  The local co-op has a lot of different seasonings, including more than one kind of chili powder, but no ancho.  I've been substituting a bit of chipotle along with regular chili powder instead in recipes that call for it, though I'm sure the flavors are different.  It's easy to overdo and wind up with a "mouth on fire" dish rather than "pleasantly hot and smoky," but if you get the ratio right, it's really quite good.  The trick in the mac and cheese is to balance the chili powder with the jalapeno to hit a comfortable level of heat.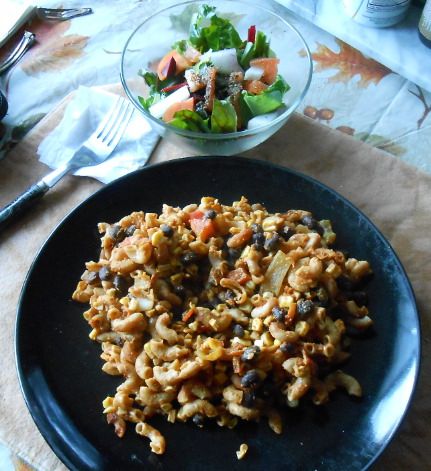 This one became an instant favorite for both my mom and I.  I've made it twice more since the initial "trial run" and can see it being something we come back to whenever we're looking for classic comfort food with a bit of a twist.  One of those times, I was able to use fresh corn from the farmer's market, which is always a treat.  I also played around with the ratio of ingredients, trying more corn and less sauce, less corn and more sauce and a variation on the amount of beans.  No surprise, I wound up preferring the version with more sauce!  Perhaps its the former cheese lover in me, but there's something satisfying about having that creamy texture in every bite.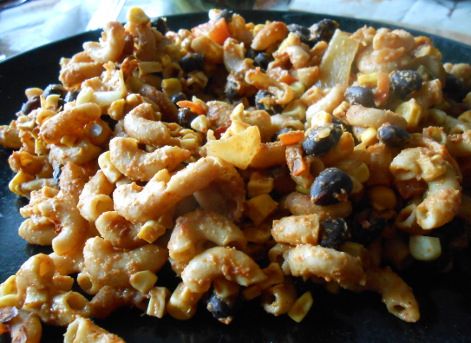 I feel like I've sung the praises of the Forks Over Knives cheeseless cheese sauce before.  It's really quite a marvel of vegan cookery.  The basic recipe has only three ingredients that shouldn't in any way resemble cheese when combined, but somehow turn into a deep red-orange sauce with a deliciously creamy texture when you stick them in a blender.  It amazes me every time I make a batch.
In the Southwestern Mac and Cheese, the sauce brings everything together so it's cheesy, pasta-y, and beany.  What's not to like?  It's sort of like a burrito, but with macaroni.  So if you like pasta and you like burritos, you can't go wrong with this one.
What's your favorite way to put a spin on classic comfort food?