As soon as it starts to get cold, I crave warm food.  Chili, curry, stew and, of course, soup.  There's something about a big pot of veggies and broth with grains or beans floating in it, wafting its savory smell through the house, that makes winter seem just a bit less hostile.  No wonder I was totally sold on Vegan Soups & Hearty Stews For All Seasons when I got it out of the library last year.
I've made a few things from the book before with tasty success.  It sat mostly dormant aside from cursory looks throughout the warmer months, which is a shame because it does indeed have recipes for all seasons, but it popped up again in my mind when winter rolled around again.  This time it was a recipe for Four Grain Tomato Soup that caught my eye.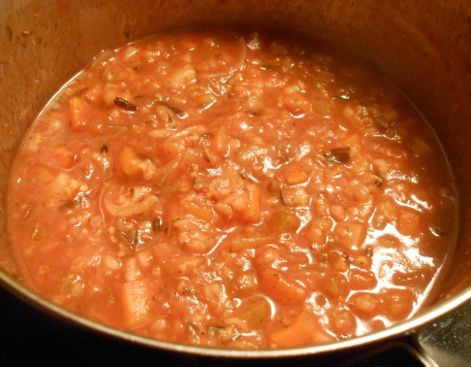 True to the title of the book, it's a hearty amalgamation of vegetables, herbs and grains in a tomato-based broth that appears among an impressive list of other winter soups in the appropriate seasonal chapter.  The ingredients are perfect for the time of year, especially if you like shopping at farmer's markets.  If you  have a local one that's open year-round, you can get carrots, potatoes and possibly onions if people have been storing them well.  As with any dish, the more you can get fresh for this, the better.  If you put up tomatoes, it would be great to use those instead of the canned kind for the crushed tomatoes in the broth, too.
I was able to use carrots and potatoes from our own garden, but alas didn't think to thaw some of the whole tomatoes we have frozen.  Pureeing them would have made an awesome base along with the water that makes up the bulk of the soup liquid.  There's a lot of water in this soup, too–6 cups for a full batch–because of all the grains.  Brown rice, wild rice, millet or quinoa and barley all make an appearance.  I went with millet and brown basmati rice, and it was delightful in flavor as well as appearance.  As you can imagine, all of this along with the veggies makes for a pretty thick soup, which is great when the weather is chilly and you're looking for something to warm you up.
Unlike just about every commercially prepared soup, the recipes in this book are aimed at being low-salt, including the seasonings.  This particular soup calls for a "salt-free seasoning" and references a list later in the book for suggestions.  I was happy to see that Mrs. Dash Table Blend was at the top of the list!  We used to use Mrs. Dash all the time for different things, and I only recently started buying it again when I realized that 1) we didn't have a good go-to seasoning blend on hand and 2) it's the only one in the grocery store that doesn't have weird ingredients or additives.  Into the soup it went, along with thyme (instead of bay leaves since I still haven't worked out how allergic I am to them) and some dried dill.  I would have preferred to use fresh, but alas, there was none on hand.
And what's a good, hearty soup without a good, hearty bread to go with it?  The book suggests a bean bread recipe from a section of breads and muffins near the back, but I wasn't too enthusiastic about the ingredients (I also didn't have some of them around).  Instead of that, I picked out a focaccia that appears a few pages on.  I'm a big fan of rustic breads and homemade bread in general, and the soup had to simmer for so long that there was plenty of time for the focaccia to rise and bake.  Plus it has the tasty addition of garlic and herbs sprinkled on top!  I used oregano and, as usual when making bready recipes, replaced the oil with applesauce.  The result was a crusty-on-the-outside, moist-on-the-inside loaf that was perfect for soaking up the last of the tomato broth from the bottom of the soup bowls.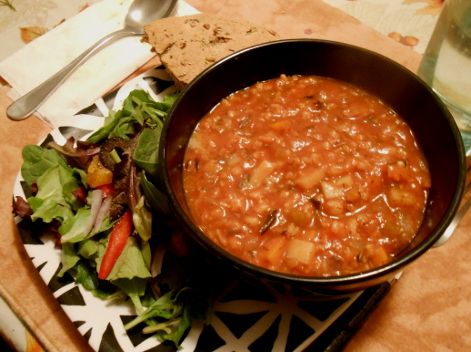 I recently made these two recipes together again for my entire family as a pre-holiday meal.  Even my dad, who usually won't touch a carrot with a 10-foot pole and is often adverse to the idea of "eating healthy," loved it.  And it's always a joy to cook for my brother, who is just the opposite and always up for trying something new.  Which is good, because no matter how many people you're serving it to, it seems like there's always a bit of this soup left over.  Not because it isn't tasty–quite the contrary!–but because it makes so much food.  So enjoy it once, enjoy it twice, and share it with people who claim not to like vegan food so you can blow their minds!
What tasty foods are you warming up with this winter?