This year, I promised myself that I would buy a few things that I've never cooked before and try them out.  After all, I have so many cookbooks on hand that there's a recipe to be found for pretty much everything.  Imagine my surprise, then when I was unable to turn up one for fresh fennel.  It's not that there wasn't anything at all, but nothing sounded "just right."  My mind was fixated on the idea of roasted fennel, so that's how this recipe got started.
I first had roasted fennel at City Market in Burlington, VT.  Before then, I'd only ever had fennel seeds in or on foods.  Sometimes it was good, sometimes not.  The fennel bulb itself, though, had a delicious flavor that I enjoyed so much, I wound up eating most of it before touching any other part of my dinner.  I wanted to recapture that flavor in this dish, but as part of a full meal.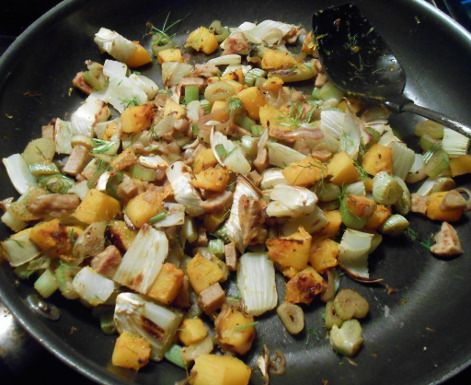 Enter butternut squash, another awesome seasonal veggie that just so happens to taste amazing when roasted.  You could use acorn squash instead, or even sweet potatoes–any orange autumn squash or root veggie adds the right color and a sweet taste.  Chewy bits of seitan are a natural complement, but white beans would work well here if you don't have any seitan on hand.  Shallots make it "fancy" (or, you know, give away the fact that I had some in the fridge that needed using), the fennel stems add crunch, and the inclusion of the fennel fronds gives everything a delicious, licorice-like flavor that needs no enhancement.  Serving the mixture over barley completes the meal with a pleasingly firm bite.  It's a fantastic mix of tastes and textures that stands apart from ordinary fall fare.
Don't be intimidated by the long list of instructions.  It's not hard to coordinate every part of the dish to make everything come together on time.  If you've never roasted veggies without oil, it's really not that different from doing it with oil.  Just line your baking sheets with parchment paper to keep everything from sticking and check on your veggies a few times during cooking.  If they look like they need a good stir, go for it.  They should caramelize just fine!
Fennel Butternut Roast with Barley & Seitan
Author:
Prep time:
Cook time:
Total time:
Ingredients
1 cup pearl barley, rinsed
3 cups vegetable broth
8oz. seitan, preferably homemade, diced
2 medium shallots, sliced thinly
2 medium fennel bulbs (see below for prep instructions)
1 medium butternut squash, peeled, seeded and diced
Instructions
Preheat the oven to 400F.
Place the barley and vegetable broth in a small saucepan and bring to a boil. Lower the heat and simmer, covered, for 45 minutes or until the liquid is absorbed and the barley is tender. Set aside, covered.
Cut the stems and fronds off the fennel bulb. Chop the bulb into large pieces and place them on a parchment-lined baking sheet along with the butternut squash. Place the pan in the oven and roast for 30 minutes, stirring once, until the vegetables are tender and starting to brown.
Meanwhile, place the seitan in a large skillet over medium heat and cook, stirring occasionally, until browned, about 5 minutes. Set aside.
While the seitan is cooking, slice the fennel stems into thick pieces. Reserve the fronds.
Place the shallots in the same skillet that you cooked the seitan in and cook over medium heat, stirring occasionally, until browned, 3-5 minutes. Add small splashes of water to the pan to keep the shallots from sticking, if necessary. Toss in the fennel stems and continue to cook for 10-12 minutes, until the stems are beginning to soften.
When the fennel and butternut are done roasting, remove them from the oven and carefully transfer them to the skillet. Add the reserved seitan and cook until heated through, stirring often.
Chop the fennel fronds and toss about half of them in the pan. Turn off the heat and stir to incorporate. Season with black pepper. Stir the rest of the fronds into the barley when it's done cooking.
To serve, plate the barley and top with the seitan and vegetable mixture. Freak out at how awesome it tastes.
I guarantee that your whole house will smell amazing if you make this.  And if you're anything like me, the self-proclaimed anise addict, you'll be instantly addicted to the flavor of every part of the fennel.  It also reminded me a bit of tarragon, but all in all it was that unmistakable smell and taste of anise that reached out and grabbed me.  Now I can't walk past a fennel bulb without wanting to buy it!