I often tell people that I'll try anything that's whole-foods-vegan once.  Usually this results in my wanting to have said food again and again and again, but whether or not I wind up with a new favorite, I always manage to find something interesting to cook.
Take the Bean and Mushroom Chili in the Forks Over Knives cookbook, for instance.  At first glance, it appears similar to many other vegan chili recipes, but a closer look reveals some unusual differences.  First, the main bulk of the chili comes not only from pinto beans, but also from an entire pound of button mushrooms.  Second, it mixes the standard flavors of chili powder and cumin with fennel and cocoa powder.
I'll admit that I wasn't too sure about the combination at first.  I've had chili with cocoa and even one with actual chocolate grated in, but the idea of putting fennel and chocolate together seemed a little strange.  After all, fennel shows up in sausages and chocolate is, well…chocolate.  (Chocolate sausage?  Bizarre.)  Then I actually got around to grinding the fennel seeds while the mushrooms were cooking away on the stove.  You know how sometimes smells mesh and there's a moment of kitchen euphoria?  Yeah, that totally happened.
One thing I was not in possession of when making this chili, and something I still have yet to find, was ancho chili powder.  I'm afraid that substituting regular chili powder diminished the impact of the finished dish despite all the other lovely seasonings.  This chili has a delicious earthy flavor to it, but I couldn't help feeling like something was missing.  Perhaps some kind of green herb to dress up the mushrooms?  Maybe corn for sweetness and color?  Or maybe I'd just better find a store that has ancho chili powder.  I've got regular and I've got chipotle, but can you really have too much chili powder?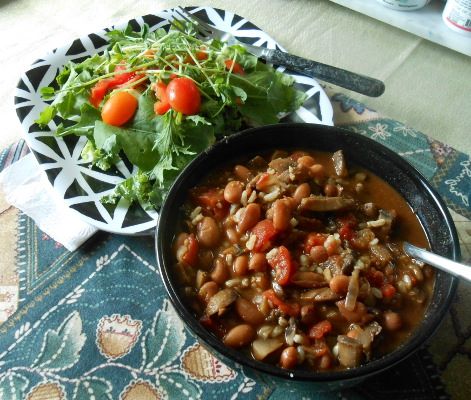 Speaking of corn, cornbread would go really, really well with this.  Preferably some kind with actual corn kernels in it, and maybe jalapeno chunks.  It would also pair well with quinoa, and of course brown rice is always a great chili accompaniment.  I went with the latter and enjoyed it quite a bit, though I would have liked the "sauce" of the chili to be a bit thicker.  Leaving it covered while cooking the way the recipe suggests resulted in a more watery texture than I'm used to for chili.  I'd imagine it's a matter of taste.
All in all, I wouldn't call this a new favorite, but it definitely wasn't a flop!  I enjoyed the chewy texture that the mushrooms added as well as the earthy taste.  Fennel has always struck me as having a sort of weird flavor, but in a good way that works well in this chili.  I'd probably add some corn if I made it again, or bake up a batch of that cornbread.  Mmmm, cornbread…
What's the most unusual ingredient you've ever put in chili?