As you can probably tell by the infrequent nature of my posts lately, school is still eating my life.
But you know what?  I love it.  Anyone who's known me in real life for any length of time would understand how bizarre a statement this is.  I've always liked learning, but I have never liked school.  My first attempt at college ended after four weeks of what, to me, was tantamount to torture.  My second attempt tanked after I realized that the professors in the program I was in didn't care about what they were teaching and couldn't offer me what I was looking for. (Can we say "disillusioned teenager?")
Now, though I don't agree with every aspect of nutrition taught in the Bauman program, I feel like I've finally found something that clicks.  Just about everything I've learned so far has been fascinating, even difficult things like the overview of nutritional biochemistry (a subject that I'd love to go into more depth with at some point).
God has truly blessed me with something that complements one of the major loves in my life: food.  It's amazing to finally be in a program that I feel willing and able to tackle, rather than overwhelmed and obligated.  Best of all, when I'm done, I'll be able to take my new knowledge and help people become healthier simply by changing their diets and adopting positive lifestyle changes.
Starting school in June (hooray for distance learning!) made this summer one of the busiest of my life.  So I suppose I shouldn't be surprised that yesterday was the official start of fall already.  Fall here in QV Land means leaves changing practically as you watch and trees going bald overnight.  It means praying like crazy that there isn't a frost so that the rest of the garden produce has time to mature.  And it means transitioning from the lighter mealtime fare of summer to more hearty dishes like soups, stews and chilis.
Tonight I'm going back to Summertime Lentil & Millet Chili, a recipe I tried out one night in July when I was cooking only for myself.  As it is a summer chili, it seemed appropriate to try it in the summer!  It's chock full of summer veggies: fresh tomatoes, summer squash and kale, to name a few.  Plus it's from a blogger who knows what she's doing when it comes to pressure cooking: JL from JL Goes Vegan!
If you read JL's blog at all, you know she loves her pressure cooker.  She was the one I first went to for advice when I started delving into pressure cooking myself, so I knew that I could rely on her blog for tasty meal ideas.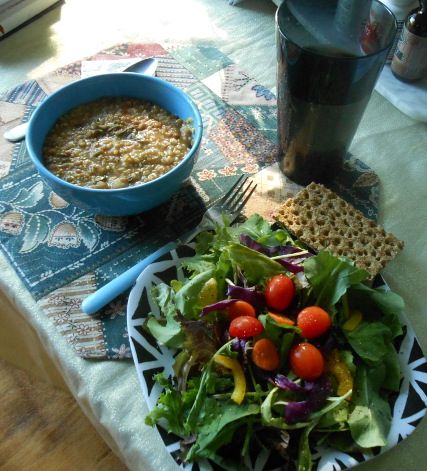 This recipe doesn't disappoint.  It's a light yet hearty chili that comes together without a lot of hassle–pressure cooking means no pre-cooking of legumes or grains and only having to use one pot!  Cooking everything together turns the lentils into a thick sauce and infuses the whole dish with a light and lemony flavor.  I found that I had to add a little more cinnamon, cumin and chili powder to achieve a spice concentration that I liked, but I'd imagine that's largely up to personal taste.  The millet added a pleasant texture that complemented the creaminess of the lentils and was a nice change from the rice I usually make with chili.
If you can manage to get your hands on fresh ingredients from farmstands and farmer's markets (or your own garden!), you really can't go wrong with seasonal dishes.  I was able to get most of what I needed from a combination of those three places, and of course the end result was amazing.  One thing I really dislike about fall is the thought that all the great greens, fresh tomatoes and other summer produce will soon be gone and nothing will taste nearly as good until spring comes around again.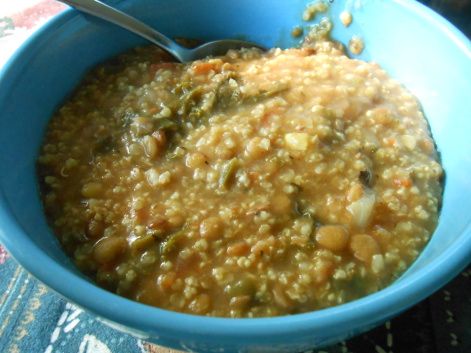 Tonight, though, I know this hearty dish will be just as delicious as it was the first time I tried it.  We have garden fresh tomatoes, kale and zucchini in the fridge, just waiting to be turned into something tasty.  If you have them, too, I highly recommend trying this recipe out!