I don't know about where you are, but here in QV land the weather has been crazy.  Tuesday brought humidity that hung in the air like a sauna, and when I drove by the bank while shopping on Wednesday, the thermometer read 93°F.  It then proceeded to thunderstorm for several hours that evening, followed by an equally crazy and stormy Thursday.
This morning it was 47° and I was in a winter coat, hat, scarf and mittens.
That's what got me to thinking about the Leek and Bean Cassoulet with Biscuits that I made several months ago.  Sudden chilly weather calls for comfort food of the highest order, and what's more comforting than a big dish of creamy, warm veggies topped with light, whole grain biscuits?  I know I can always count on Veganomicon to deliver a fancy update of such a classic dish.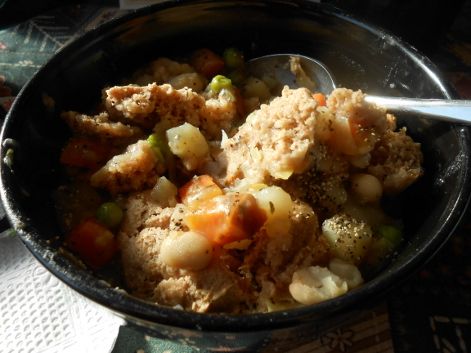 This cassoulet is basically everything amazing about stew and dumplings, except that instead of cooking dumplings in a pot with the stew base, you transfer the whole thing to a casserole dish, plop rounds of biscuit dough on top and bake it in the oven.  Now, I've made other casserole dishes with breaded tops, but never tried making biscuits this way before.  I was actually a bit concerned about them cooking, but they wound up puffing and rising a lot more than I was expecting.  Perhaps that was thanks in part to the lightness of the spelt flour, which I used in place of all-purpose because I've had success with spelt dumplings in the past.
The stew itself is full of classic stew ingredients: carrots, potatoes, onions and peas plus the addition of sauteed leeks.  Thyme and black pepper provide most of the flavor, which spices up the white beans that get added near the end of the stovetop cooking time.  With those two spices as the predominant flavors and some thickened vegetable broth for the liquid, it's pretty much the perfect combination for stew.
For the first time ever, I was able to get a decent-tasting biscuit using applesauce instead of vegan butter.  In the past, they've always come out kind of spongy when I made the substitution.  In the cassoulet, though, they were just a bit firmer than dumplings and had great flavor and texture.  I did "cut" the applesauce into the batter like you would with butter or shortening, so maybe that had something to do with it?  I don't know.  Either way, they came out amazing.
My only complaint was that the biscuit-to-stew ratio was about 60/40, which made the texture a bit thick when I broke the biscuit part up into the stew.  I love biscuits, but I also love having lots of stew broth to sop up with them.  Given how much the biscuits grew during cooking, making fewer of them would still result in a great-tasting dish.  Looking back on it, it's something I wouldn't mind making again now that the weather is getting cooler.  It takes about an hour to put together, but the end product is more than worth it!
Question for the comments: What "comfort foods" are you planning to pull out for fall?