With all the fantastic vegan cookbooks hitting bookstore shelves, how do you choose which ones to try?
The simple answer, at least for me, is to try them all (usually via the library) and buy the ones that stand out. Never mind that this results in overloaded bookshelves!
Speaking of cookbooks that stand out, I was recently lucky enough to be given a chance to look at and review The China Study Cookbook, a collection of over 120 whole foods, plant-based recipes designed in the spirit of the findings detailed in T. Colin Campbell's The China Study. Written by Campbell's daughter, Leanne, the goal of the book is to provide recipes for "quick, nutritious meals" that don't use any animal products or added oils.  This way of eating has been shown to reduce, prevent and even reverse many of the chronic diseases that currently plague Western society.  Leanne's recipes are meant to make healthy eating accessible and enjoyable for everyone, every day.
Within its glossy pages, this gorgeous book includes full-color photos of many of the recipes, which are divided into eight categories: Breads & Muffins, Breakfast Dishes, Appetizers & Salads, Soups, Sandwiches, Entrees, Side Dishes and, of course, Desserts!  Before the text delves into the recipes, there's a concise intro with relevant information including the best ways to store and prepare plant-based foods to minimize nutrient loss.  Leanne also shares the story of her journey to a whole-foods, plant-based diet, which I think anyone who's made a big lifestyle change can relate to.  Later on, she offers tips on raising kids to eat whole-foods plant-based and explains a little bit about the benefits of whole foods versus the detriments of processed ones.
The intro also offers a few things that are common to many cookbooks, such as a recommended list of kitchen tools as well as a section on how to swap out ingredients to make recipes more friendly to a whole-foods, plant-based diet. Both of these were short, accessible lists good for cooks of any skill level. My favorite was a tip that suggested using prune paste instead of fat in baked goods. I haven't tried it yet, but I like the sound of a fat substitute that doesn't distort flavor!
Though there are no nutrition facts presented with the recipes, the book does use a series of symbols to denote the categories of plant foods that are used. Ranging from a red apple for fruits to a purple mushroom for, well, mushrooms, this rainbow of symbols is a great way to help people visualize the diversity of plant-based foods and to show how much more there is to this diet than just "fruits & veggies!" Each recipe also offers suggested serving sizes, though I didn't find these to be accurate when feeding my family since we eat a lot. One recipe listed as 6-8 servings was much closer to 4 for us.  I'd say use your own discretion since part of the beauty of whole-foods, plant-based eating is being able to trust your body's signals and not have to worry about counting calories!
As I usually do with a new cookbook, I picked three recipes to try out. The first was Masala's Chickpeas because I am a huge sucker for anything "masala," "chana" or curried, especially if chickpeas are involved. True to the spirit of the book, this Indian-style dish has a simple ingredients list and is incredibly easy to make. The flavor profile is well-balanced between spicy and mild, though I felt that it could have used a bit of cilantro. Served over basmati rice with a salad on the side, it made a warming and satisfying meal. The only way to make this more awesome would be to stir in some spinach during the last few minutes of cooking time.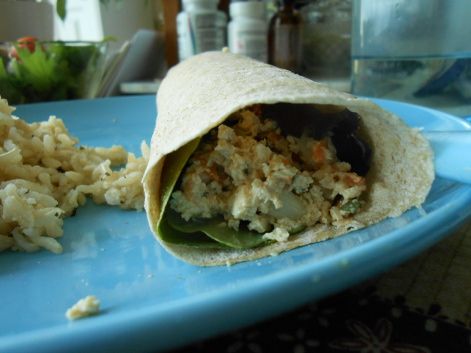 The recipe for Thai Wraps came in handy during that recent stretch of 90-degree, disgustingly humid weather we had here in the Northeast. I'm a pretty dedicated chef, but even I don't want to be standing over a hot stove when the weather gets like that. These wraps feature a tasty and cooling combination of veggies like bell peppers, carrots and celery mixed with mashed tofu and, interestingly enough, a peanut-lime sauce. The result? A smooth texture with a taste that's a fun departure from "mayo"-based tofu salads. This was especially good served on homemade wraps with some of the first batch of our garden-grown lettuce and a side of cilantro-lime rice.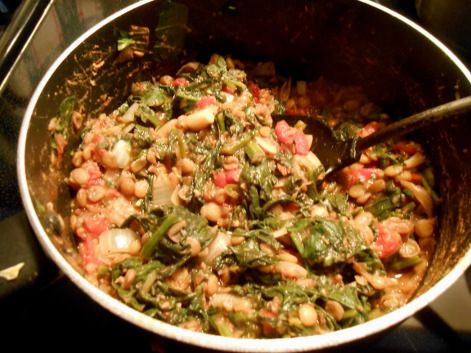 The last recipe I tried was Leafy Lentils, a tasty-looking mix of lentils, spicy diced tomatoes and spinach. Usually I'll substitute kale if I don't have spinach on hand, but for this I waited until I could get a couple bags on sale. It was worth the wait! Though the dish smells a little strange while it's cooking, the final flavor is very good. Lacking a can of diced tomatoes with jalapenos, I used a hot pepper from the rather prolific plants in my garden to give it a kick. There's also a little balsamic vinegar in this, which was a delicious addition. Again, the dish was simple to make and it was easy to coordinate cooking brown rice and making salad with the cook time of the lentils. Next time I make it, though, I would like to try some fresh oregano. It has a lot of the dried variety in it, and I found that made the texture a bit grainy.
There are so many other great recipes in this book! I can't wait to try the Zucchini Crabless Cakes and the Tasty Potatoes and Kale. The list of amazing-looking dishes goes on, most of which can be made with ingredients you already have in your kitchen. There's nothing overly complicated and it's all oil-free and vegan. Even the desserts. How cool is that?
Congratulations to Katie of the Vegan Noms blog!  You're the lucky winner of this great cookbook!

I can't wait to read your responses!