I get up early.  Really early.  Which is strange because, back in high school and for a couple years after, I preferred to stay up until really early.  Now, though, I like climbing out of bed before anyone else is awake, getting in a good workout and sitting down to a quiet breakfast.  But being up at the crack of dawn means that, by the time most people would be thinking about brunch, I've eaten twice and am getting ready for lunch.  Fortunately, brunch foods also make fantastic dinners, so it's in the evening that Vegan Brunch gets a workout in the QV household.
I'm sure I've mentioned before how much I love curry, and curried cauliflower in particular.  There's something about curry spices that takes otherwise simple food and elevates it to a whole new level.  Don't get me wrong; I enjoy simple food too.  But sometimes you need something a bit off the wall, and Curried Cauliflower Frittata fits the bill when it comes to breakfast (or brunch) for dinner.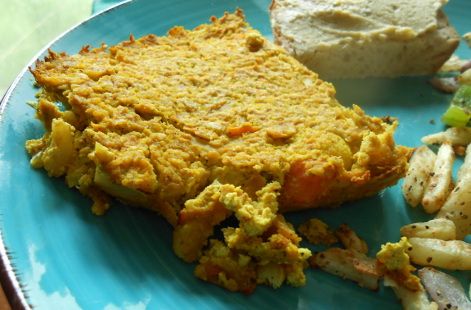 I don't know how difficult traditional frittata is to make, as I was never adventurous with eggs in my pre-vegan days.  Whatever the case, this lovely vegan frittata was a piece of cake–or perhaps a piece of curry-spiced tofu–to make.  I love any recipe that involves getting to stick your hands in something and making a huge mess, which is just what tofu-based frittata calls for.  You get to take your tofu and mush it up by hand until it has a ricotta-like texture, and then you add the rest of the ingredients to turn it into a frittata.
In this case, the "rest" consisted of cauliflower, some garlic, curry powder and cumin, lemon juice and nutritional yeast.  There was also a bit of carrot grated in, which I enjoy quite a bit but find it nearly impossible to avoid launching carrot shreds everywhere when I use it in things.  Looking back, I would have added even more carrot and maybe some shredded zucchini to balance out the cauliflower with more color.  I probably should have listened to the recipe and started with a little less curry powder, too; the blend I have was a bit strong in the finished frittata.
Other than that, the flavor was quite good!  As you can see, Mom and I ate everything with ketchup, but I got the odd impression that gravy would be a tasty frittata topping as well.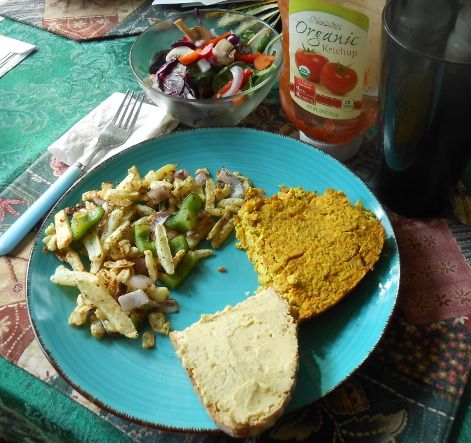 Flipping through the book for potential sides turned up a tasty recipe for Diner Home Fries, complete with peppers and onions.  Cooking home fries (or any kind of potato in a pan) without oil requires a little babysitting, but the payoff is worth the time.  You get the same crispy outside and soft inside and can enjoy the flavor without all the greasiness.  And of course, potatoes make everything more amazing.  Another possible amazing thing to do with this frittata would be to use Italian spices and broccoli instead of curry and cauliflower, though then it would need a new name!
Speaking of, going back through Vegan Brunch today turned up another tasty-sounding frittata that I'm going to have to try, this one with Swiss chard!  The tiny rainbow chard plants I bought back at the beginning of the season have started turning out beautiful big leaves with bright stems.  There's a whole "bouquet" of them sitting in my refrigerator, waiting to become a delicious (and colorful!) meal.
Do you enjoy brunch now and then?  What's your favorite vegan (or veganized) brunch dish?