I apologize for it being so quiet around QV land lately.  The fact that I don't talk about my life on the blog very often makes me feel kind of awkward when I do have an announcement of some kind.  But I do, and it's exciting enough for me to break the usual format of my posts to do it!
As of last month, I officially enrolled as a distance learning student in the Nutrition Consultant certificate program offered by Bauman College.  It's an 18-month program designed to help students become familiar with how diet relates to health and, subsequently, use plant-based dietary changes to aid people in improving their lives.  The Bauman program isn't inherently vegan, but it's easy to adapt and focuses on making plant foods the majority of the diet.   Though I feel like I know a fair bit about food already, there's a lot to learn regarding its effects on the body.  And given that it's been longer than I care to admit since I last went to school, the program is going to be taking a lot of my time for next year and a half or so.
That doesn't mean I'm going to stop posting here!  Posts will just be fewer and farther between while I'm focusing on the Bauman program.  Keep an eye on the blog, though; I've got some fun reviews and giveaways coming up toward the end of the summer and on into the fall.  I'm especially excited about these and can't wait to share them!
On a more bloggy note, I don't know about you, but I get a kick out of specialty ingredients.  Not all the time, of course, because that gets expensive, but there's something exciting about browsing the store for a food or condiment that you don't use very often and finding just the right one for your dinner.  In the case of Seitan and Broccoli-Shiitake Stir Fry from 1,000 Vegan Recipes, the ingredient du jour was shiitake mushrooms.
Don't you just love the name?  Shiitake.  It's even kind of fun to type.  The texture of these little flattened umbrellas is a little on the rubbery side, but it's the earthy flavor that makes them so special.  All mushrooms taste a little rustic in one way or another, but shiitakes have something that sets them apart.  It's different from the slight sweetness of portabellos and more pronounced than the flavor of regular old button mushrooms.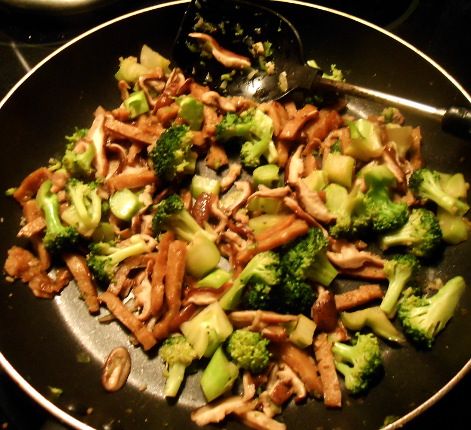 Consisting mainly of stir-fried seitan and broccoli in addition to the shiitakes, this is an incredibly simple dish with amazing flavor.  I think that's what I like best about stir-fries: that such simplicity can taste so darn good.  If you think about it, you can stir-fry pretty much any combination of veggies with a little liquid aminos or soy sauce, garlic and maybe some ginger, and suddenly you have a meal that only needs a pile of noodles or cooked grain to be complete.
I served this over brown rice and, of course, made sure to toast the sesame seeds as per the recipe's instructions.  I love toasting seeds, too, though it does require a bit of careful babysitting.  I roast mine in a nonstick skillet over just enough heat to brown them without turning them to charcoal. (The pine nut incident, anyone?)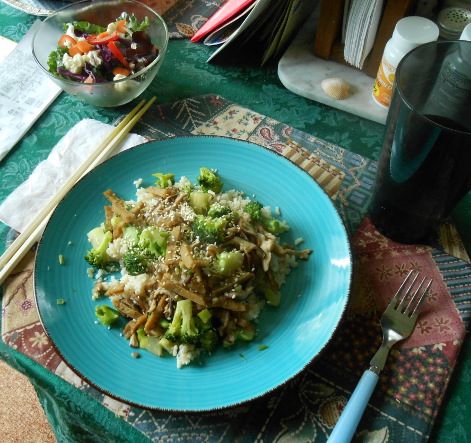 As usual, I made a couple of simple changes to the recipe.  Instead of cooking sherry, I used a bit of agave for sweetness.  I also chopped up the stalks of the broccoli along with the florets, a habit I picked up from making pasta con broccoli.  If you've never used the stalks, I encourage you to try it!  The flavor is a little different from the tops, but still distinctly broccoli-like.  It has a crunchy, fiber-y texture that also goes good in salads and, believe it or not, on sandwiches.
The only other thing I would add to this is a pinch of crushed red pepper.  I like a little heat in my stir-fries!  Rice vinegar would be a good accompaniment as well.  With the garlic, ginger and green onions in it, the final dish really doesn't require much adornment.  Robin Robertson's recipes have a way of bringing together even a short list of ingredients and turning them into something special.
What's your favorite specialty ingredient to "splurge" on?