When you think of twice-baked potatoes, what comes to mind?  The creamy center?  The smooth texture?  The ridiculous amount of cheese?
Would you believe that these Southwestern Twice Baked Potatoes from the Forks Over Knives cookbook have no added fat and yet taste just as delicious as the decidedly non-vegan original?  Actually, these are better, because with a salad they make an entire meal!
All right, so they're not exactly like the original.  But the resemblance is remarkable.  Not only do they deliver the satisfying flavor of warm, smooth potato, but they also have a unique Southwestern twist.  There's onion, there's peppers, there's garlic and jalapenos!  And beans and corn and cilantro.  Along with a few other traditional seasonings and some green onions for garnish, it's sort of like a potato fiesta.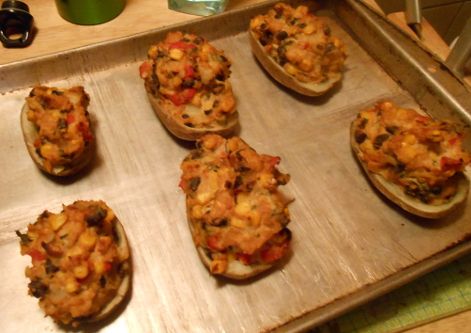 Oven-baking potatoes is worth the time, let me tell you.  The texture and flavor are better than when you bake them in the microwave, plus it eliminates all that messy controversy about radiation and food degradation.  Unless it's a bazillion degrees outside.  Then maybe you shouldn't be making baked potatoes.  Either way, if you haven't tried it, give it a shot.  While they're baking, you can make the rest of your dinner.  Or, in this case, the rest of the potato filling.
One weird thing about this recipe is that it tells you to scoop out the potatoes and save the inner flesh "for another use."  Why, I thought, would I want to do that when potato is so delicious?  Instead, I mashed the scooped-out potato along with the silken tofu that serves as a stand-in for dairy before mixing both together with the veggies.  Then, of course, everything went back into the potato skins to bake a second time.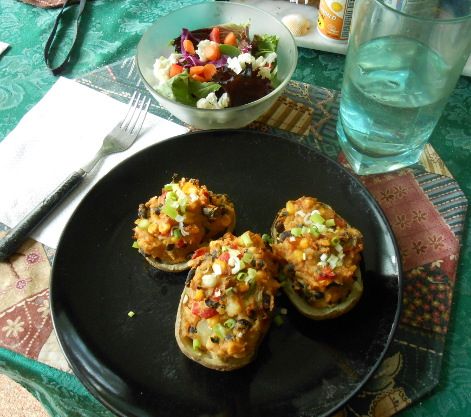 I thought the overall flavor was a bit mild, but I suspect that has something to do with the chili powder.  The recipe calls for the ancho variety which, like the chipotle variety I keep running across in other recipes, I don't have.  I'm actually embarrassed to admit that the kind I do have right now is a ridiculously cheap store brand.  Like curry powder, I'm on a quest for the perfect chili powder that's not too mild, not too spicy and not too expensive.  I guess I'll have to do a little browsing in the bulk section the next time I'm at the co-op.  (If you have a favorite, let me know in the comments!)
Regardless, salsa fixed the flavor problem.  A good vegan cheese sauce would also be amazing if you omitted the nutritional yeast in the main recipe.  In fact, it would complement the texture rather well.  With the second baking, the tops of the potatoes got a bit crunchy and wound up tasting rather like French fries!  I remember twice-baked potatoes having a  crust on them, so it was nicely authentic.  And tasty.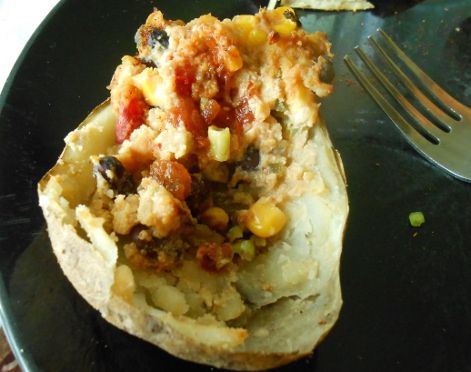 I would love to make this again with organic or homegrown potatoes so I could just pick up one of the halves and bite into it, skin and all.  Of course, then I might eat them so fast that I wouldn't have time to enjoy the flavor.  Which would be tragic, because these were an amazing update of their non-vegan predecessors.
What's your favorite vegan version of a non-vegan meal?