I wonder if advertising companies know how often their work backfires when it comes to vegans.
Take me, for example.  When I see omni food in an ad, especially processed food, and think it looks like it might taste good, my immediate reaction isn't to think, "Gee, I should buy some of that (or would if it was vegan)."  Instead, I'm the one who goes, "Oooh, I need to cook/bake that, and make it vegan!"
That's how this recipe came about.  A few weeks ago, I was flipping through the coupon inserts in the local Sunday paper and came upon a coupon for a certain brand of sausage that happened to be accompanied by a simplified jambalaya recipe.  It sounded so good that my brain automatically replaced the sausage with vegan sausage and started playing around with the ingredients, incorporating ideas from other Cajun-style dishes that I've made in the past.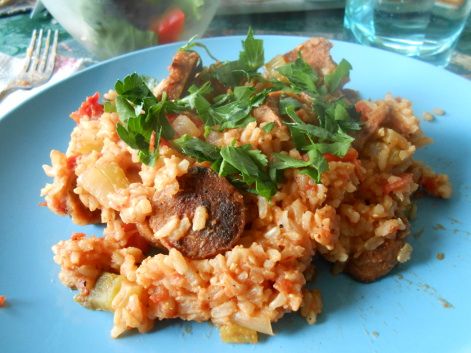 The result?  A tasty, spicy dish that practically cooks itself.  Serve with bread or cornbread (like the plain Bayou cornbread from Everyday Happy Herbivore!) and a salad for a filling meal with a Cajun kick.  And say "ptthbbhtbbhtbh" to those omni advertisers and their sausage.
Easy Cajun Rice and "Sausage"
Author:
Prep time:
Cook time:
Total time:
Ingredients
1/2 cup diced yellow onion
1/2 cup diced green bell pepper
1/2 cup diced celery
1 garlic cloves, minced or pressed
1 14.5oz. can diced tomatoes
1 tsp Cajun seasoning
3/4 c uncooked long-grain brown rice
water or vegetable broth
pepper to taste
2 vegan sausages, sliced
minced fresh parsley, optional
Instructions
Drain the diced tomatoes into a measuring cup, getting as much of the juice as you can. Add water or vegetable broth to make 1 1/2 cups. Set aside.
Place the onion, pepper, celery and garlic in a medium saucepan over medium-high heat. Cover and cook until soft, stirring occasionally, 5-7 minutes. Add splashes of water to the pan if the veggies start sticking.
Add the Cajun seasoning and rice and cook, stirring, for 1 minute. Stir in the tomates and juice/broth mixture and add pepper to taste. Cover and bring to a boil. Reduce the heat to low and simmer for 45 minutes, until the rice is tender and most of the liquid is absorbed.
Meanwhile, cook the sausage links in a medium-sized skillet over medium heat until browned. Set aside.
When the rice mixture is done, stir in the sausage. Cover and cook for 5 minutes more to blend the flavors. Taste and adjust seasonings. Serve garnished with parsley, if desired.