I must confess, I love cauliflower.  If I could go back in time and tell my four-year-old self that this would one day be the case, I'm sure I would be met with scoffing, laughter, or the biggest "EW YOU HAVE GOT TO BE KIDDING" face ever.  But I'm not kidding, because cauliflower is seriously amazing.
Case in point: Happy Herbivore's Cauliflower Manchurian.  It's a simple side dish with an equally simple option to turn it into a full meal.  Basically, you toss lightly boiled cauliflower with a sweet and spicy sauce that only has six ingredients.  Or you can roast the cauliflower to give it a different flavor, which I'm a big fan of.  No surprise, then, that I chose the roasting option and doubled the sauce to turn this basic dish into a complete dinner.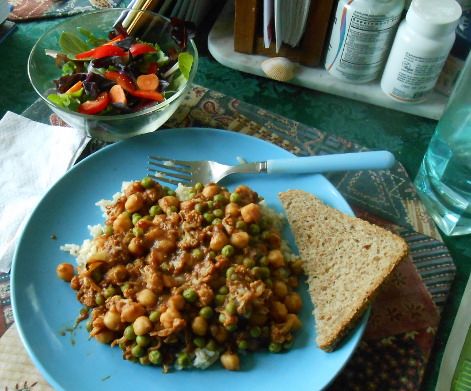 What makes cauliflower enough for dinner, you ask?  Why, the addition of peas and chickpeas, of course!  I've noticed that several HH recipes suggest the addition of peas, such as the faux alfredo in her first book, and it always turns out to be a good idea.  And you can't go wrong with chickpeas in just about anything.  I wound up tossing those in with the sauce to warm them up a bit before adding the cauliflower, which also served to coat them in a pleasantly spicy flavor that I can't really describe.
That, I think, is because this sauce is unlike anything I've tried before.  You'd think that, with such a short list of ingredients, it would taste at least a little like another food, but I can't come up with a good comparison.  The base consists mostly of ketchup, which I was a little wary of at first since I don't often use it as a condiment, let alone a sauce.  The addition of the other ingredients  made all the difference.  I didn't have any sweet Asian chili sauce around, so I did what I usually do and diluted some Thai chili paste.  To make it sweeter, I added rice vinegar and agave, plus a little lime juice because I love lime in Asian-themed dishes.  This recipe also gets a bit of Indian flair from garam masala, something else I'm a huge fan of.
As I said, the recipe promises a sweet and spicy flavor, and that's exactly what my mom and I enjoyed!  I'd love to try serving this to someone who insists that they hate cauliflower.  After being roasted and coated with the sauce, it doesn't taste a thing like the vegetable I despised as a kid.  Maybe if HH had been around then, I wouldn't have spent so many years avoiding it!  I love how she takes just a few kitchen staples and turns them into something new and exciting.
The chickpeas and peas added a nice texture, and of course the rice was delicious.  (Then again, I'm a fiend for brown rice!)  In fact, you could probably pour the sauce from this recipe over plain rice and it would be amazing all on its own.  Or you could put it on pizza.  Or other veggies.  Or an old (vegan) boot.  And darn if it wouldn't taste good!  All in all, another winner from HH!  I certainly fell in love with cauliflower all over again.
Do you try new recipes for foods that you used to dislike?  What foods did you fall in love with in their new "settings?"