Some people collect buttons or stamps; I collect food.  Well, food items.  A look in my pantry and cabinets will turn up four or five kinds of flour, four kinds of hot cereal, several varieties of dried beans and around ten types of rice and grains.  And that's just what I have on hand right now.  I've become a lot more adventurous with food since going vegan, which means you'll often find me in the bulk section of the co-op with a container or jar, eying the sale bins and trying to decide if I do, in fact, need yet another kind of grain.
The answer is nearly always yes, which is how I would up becoming such a fan of stuff like quinoa and millet.  Of course, when you've got all that grain hanging around, you need recipes to use it in!  When cooking for myself, I usually grab whatever strikes my fancy and make some version of "the bowl," but I tend to want to be more creative when serving my family.  And when I want to get creative, I known I can count on the Forks Over Knives cookbook for something new and interesting.
This time, it was millet stew.  Yes, millet in stew!  Also carrots and onions and cauliflower with some diced tomatoes.  Not your typical all-American stew fare, to say the least.  No potatoes or mushrooms or dumplings in sight.  And yet, it's an intriguing recipe.  You start, interestingly enough, with a spiced vegetable broth.  Instead of just using straight-up broth, you toss in a cinnamon stick, some ginger and a bay leaf (or, in my case, thyme since bay leaves don't agree with me) and let it boil for a while.  Then it sits until you've sauteed the veggies a bit and gets added back in along with the millet.  I don't think I have to say just how tasty that makes the whole house smell.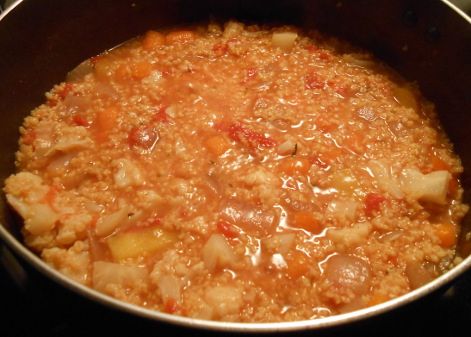 Millet is one of those grains that fluffs up a lot when you cook it.  Somehow I forgot about that and was rather astonished to find just how big it got in this stew.  Along with the vegetables, it made a substantial pot of food.  The only problem was, I had absolutely no idea what to serve as a side.  When a main dish lacks something green, I usually look to make it up in some kind of side dish.  Steamed kale or perhaps collards would have solved the problem, but our fridge was surprisingly lacking in leafy greens aside from salad mix.  What we did have, though, were Brussels sprouts.
Now, I could have just steamed them and called it a meal, but that seemed almost too simple.  Enter one of my favorite go-to cookbooks, Appetite For Reduction.  Had I been in possession of kale, I would likely have gone for the garlic/mushroom/kale mixture that my mom and I adore, but this time I was on the hunt for some way to make the Brussels sprouts go with the stew.  Why I wound up choosing Brussels sprout potato hash is beyond me, since that's usually the sort of thing I'd cook to go with tofu scramble or pancakes or some other kind of breakfast food.  But that's what caught my eye, so that's what I made.
It was delicious.  Cooking it without oil meant having to babysit it a bit so that it browned without burning, but the time was well worth it.  Soft on the inside and crunchy on the outside with a little bit of thyme and lemon zest for flavor…perfect.  It didn't quite go with the stew the way I was hoping, which I suppose isn't surprising.  On the other hand, it wasn't terrible, either.  Lacking leafy greens, it was a suitable substitution.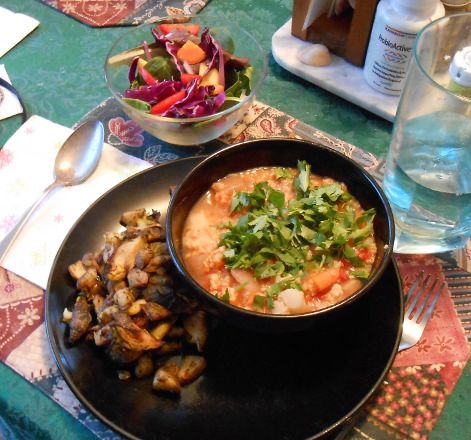 Between the two dishes, it was an awful lot of prep work for one meal.  However, the cooking times coordinated well and it all tasted so good that it was time well spent.  In my opinion, good food is always worth a little extra time and effort!
Though the stew was pretty hearty on its own, I think it would also be good with some chickpeas or white beans added in.  Chickpeas would probably be the most authentic given the flavor combination and would stay firmer during cooking.  The whole meal was a fun experiment that I wouldn't mind repeating, except I'd swap out seasonal greens for the hash, especially now that I could blow my whole farmer's market budget just on greens and be happy…
What's the weirdest combination of dishes you ever made that turned out to taste pretty good together?