Is it possible to improve on pizza?
How about by turning it into a roll that you can slice up and dip in, say, vegan cheese sauce?
That's the concept behind stromboli which, if you've never had it, is pretty much a roll of pizza.  You start with pizza dough (I usually go with a variation on the whole wheat crust in Mark Sutton's Heart Healthy Pizza), but instead of rolling it out flat and layering it up with toppings, you make a separate filling and spread it on before rolling the whole thing up and baking it.  Pretty cool, huh?
For the Spicy Soy Stromboli in Vegan Planet, Robin Robertson puts together a filling of onions, peppers, mushrooms and tomatoes along with crumbled tofu and Italian herbs. Oh yes, and red pepper flakes for the spicy part!  Not too different from a regular pizza, and just about as easy to make.   There's a bit more time involved since you have to cook the filling first, but overall it's not hard to put together.  (The pictures I had of the stromboli "log" were rather unfortunately obscene, so I decided not to post them, haha.)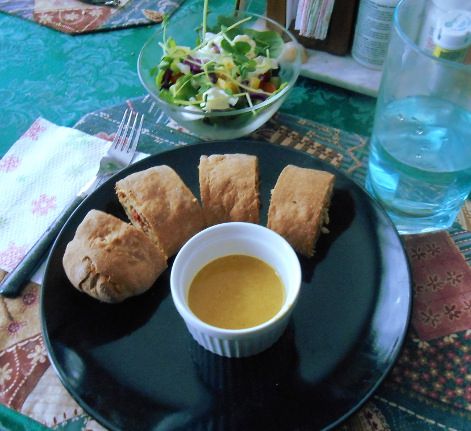 Does anybody else remember those Pizza Hut "dipper" pizzas that were sliced into strips and came with three different types of dipping sauce?  I admit to falling for that gimmick in my teenage years, and it's probably what prompted me to whip up a batch of Happy Herbivore's cheddar-style cheese sauce to go with the stromboli.  Serving it in ramekins probably wasn't necessary, but it looks nice, no?
For the dough, I tried a combination of white whole wheat and whole wheat pastry flours.  Along with the couple tablespoons of vital wheat gluten that I always add, it made an amazing light, elastic dough!  I've found that white whole wheat flour lends a much smoother texture to baked goods, which I've kind of fallen in love with in the recent past.  As if I need another kind of flour to stock up on…
The only thing I would add to this is something green…probably spinach.  As much as I like kale, I don't think the texture would be quite right.  Spinach gets almost silky when you cook it down a bit, and the slight sweetness would be a good complement to the hot pepper flakes.  Which, by the way, made this surprisingly hot with only 1/4 teaspoon.  And that's coming from someone who really likes hot food!  Other than that, it pretty much tasted like a pizza.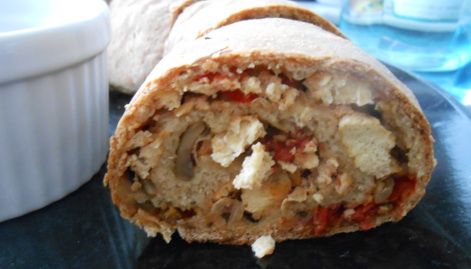 I wouldn't say that I liked this better than pizza, but it was still quite delicious.  It made a fun change from standard dinner fare.  I mean, who doesn't like dipping bite-sized pieces of food in warm, cheesy sauce and making a mess of things in the process?  Which makes me think, stromboli would probably be a fun kid food, especially if you're dealing with a group of kids who need a tasty introduction to vegan fare.
So, try rolling up your pizza.  You don't even need a recipe!  Just make your favorite dough, stuff it full of lightly sauteed toppings and go to it.  With sauce.  Because deep inside there's still that teenager that got suckered by Pizza Hut and really, really wants to dip things.
Congratulations to Claudia and Bk, winners of The New Fast Food giveaway!
Enjoy your copies of the book, and happy pressure cooking!