After I got my massive pressure cooker/canner for Christmas, it didn't take me long to fall in love with pressure cooked meals.  It's really no surprise since I'm already a lover of things that can be cooked in one pot.  Pressure cooker meals are the ultimate in one-pot cooking, so I was more than happy to receive a copy of The New Fast Food: The Veggie Queen Pressure Cooks Whole Food Meals in Under 30 Minutes from author Jill Nussinow to experiment with!
In addition to whole host of tasty recipes, The New Fast Food includes everything you need to know to get the most out of your pressure cooker.  The first three chapters cover pressure cooker use and care, different ways to release pressure and troubleshooting tips.  There are also handy cooking charts for all your vegan staples like grains, beans and various veggies.
The beauty of pressure cooking is, of course, speed.  Want to cook quinoa in five minutes?  No problem.  Have a hankering for hummus but forgot to soak the chickpeas?  Cook them from their dried state in half an hour.  Before getting a pressure cooker, I had no idea any how much time it could save.  Jill's book goes into detail in each recipe chapter with additional information about ingredients and simple recipes for things like beans and grains to ensure that they come out just right every time.  This is invaluable information no matter how experienced you are with pressure cooking.
As a Registered Dietitian, Jill Nussinow, also known at The Veggie Queen™, has been spreading the word about plant-based eating for over 25 years.  She currently serves on the faculty of Santa Rosa Junior College, teaches fermentation classes and is a frequent visitor to farmer's markets.    In addition to The New Fast Food, Jill is the author of The Veggie Queen: Vegetables Get the Royal Treatment and stars in the DVD, Pressure Cooking: A Fresh Look, Delicious Dishes in Minutes.  You can connect with Jill in a whole bunch of places:
Visit her website, TheVeggieQueen.com;
Read her blog;
Say hi on Twitter or Like her on Facebook;
Or even watch her cook on YouTube!
As I usually do with cookbooks, I picked a few recipes from Jill's collection to try.  First up was Smoky Sweet Potato and Black Bean Chili.  Boy am I glad that I decided on this one!  It's a delicious combination of sweet, earthy and smoky flavors from the main ingredients plus the addition of a chopped chipotle chili.  Onions, peppers and tomatoes round out the dish along with a few basic chili spices.
Though the seasoning is simple, the chili winds up with a deep flavor that I've never gotten from a simmered pot of chili.  Starting with dried, soaked beans resulted in a much firmer bite than canned, which I liked a lot.  By contrast, the sweet potatoes softened to the point where they started to break down and form a thick sauce.  I served the whole thing over rice, but it would also be fabulous with some kind of cornbread or corn muffins as well.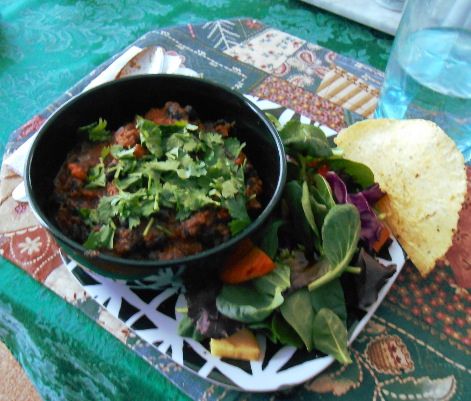 Next up was Curried Rice and Lentils.  Now you know me, I'm a huge sucker for any and all things curried.  Douse something in a spicy sauce or dump a bit of curry powder and cayenne in it and I'll try it.  (That is, after all, how I finally made peace with cauliflower.)  Add rice to the mix and I'm hooked.  This recipe not only includes curried things, but also currants (which I love) and peas.  A note at the beginning suggests other veggies like potatoes, so I tossed a few of those in too.
As with the chili, I found the flavors to be more intense and full than similar dishes cooked in a saucepan.  The potatoes came out a little pasty, but the whole dish was so delicious that it didn't matter.  I think it helped that I added a pinch of cayenne to supplement the rather mild curry powder I was using and that I had a nice fresh tomato from the farmer's market to mix in with everything else.  Next time I'll try cutting the potatoes bigger to see if they cook more firmly.
The only odd thing with this recipe is the cooker took a very long time to come down from pressure.  It's only supposed to take about 10 minutes, but wound up taking closer to 20.  Since I used my newer 4-quart cooker, I might have misjudged how full it was, or it could be a function of the fact that I live at a bit of an elevation.  Either way, it had no effect on the final outcome of the dish.   Amazing, just like the chili!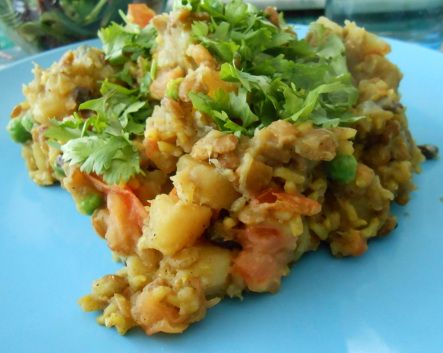 Pressure cooking takes a little trial and error to get right, but The New Fast Food demystifies the process and makes it a lot of fun.  It's a great companion if you want to start pressure cooking or if you've been doing it for a while and are looking for some tasty new recipes.  Now that I have my smaller pressure cooker, I've developed the habit of cooking a pot of chickpeas while I'm eating breakfast so I always have some on hand for hummus, wraps and the like.  I've begun switching entirely to dried beans from canned and can't wait to experiment with cooking some of my favorite grains.  With Jill's book on hand, I'll never run out of new dishes to experiment with.  Two thumbs up from QV!
Jill has kindly agreed to let me give away 2 PDF copies of her book to lucky QV readers!
To enter, leave a comment on this post telling me what you like most about pressure cookers or, if you don't have one, why you want one.
The contest is open until Friday, June 7th, so get your entries in!
Since this is an eBook giveaway, both US and international entries will be accepted.
Giveaway is now closed.  Winners will be announced soon.  Good luck to all who entered!