Noodles, how do I love thee?  Let me count the ways…
…
Okay, so if I actually sat here and counted how many different ways I love noodles, I'd never get another blog post done.  Because really…noodles!  Rice is great, quinoa is great, but there's something about a big bowl of noodles with savory sauce that hits every comfort food button in my brain.  I'm an especially big sucker for Asian noodles, with soba being at the top of my list for bowl-style meals.  But a few udon-based recipes have caught my eye over time, one of them being the Broccoli Curry Udon bowl over at the Post Punk Kitchen.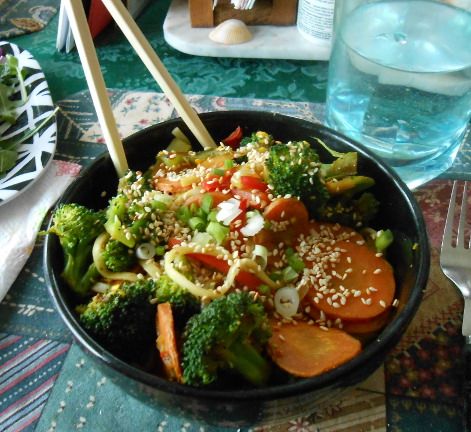 It's really a tragedy that this recipe sat in my bookmarks for as long as it did simply because I didn't have any udon noodles that I was happy with.  I tried getting some at a local Asian market a while back only to discover that they were far too salty for my taste.  It wasn't until the most recent vegan care package swap that to wound up with a decent variety.
For a while, it was a toss-up as to what to make with them.  There's a recipe for an udon bowl in The 30-Minute Vegan that sounds pretty darn good but, as is the case with so many things, I never seem to have all the ingredients on hand at once.  But the broccoli curry udon can be made with things I almost always have on hand.  In addition to the broccoli and red onions that it calls for, I added red bell pepper and sliced carrots for some color and variety.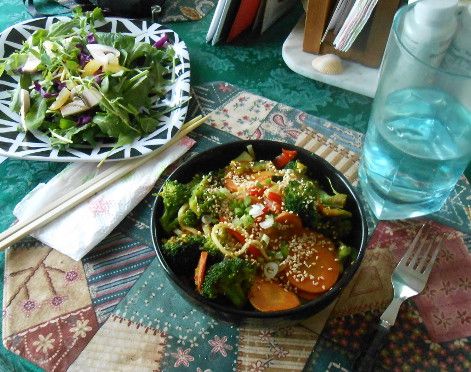 I changed up the cooking method a little by stir-frying the veggies in stages rather than separately, then made the sauce.  This is so ridiculously easy to cook that I'm almost embarrassed I didn't make it sooner.  And it's versatile, too…you can use pretty much any veggies you have around, though I'd stick with broccoli as the star of the whole thing.  Next to the noodles, of course.
This was the first time the rather substandard curry powder I have actually worked out in a dish without the addition of cayenne or other extra spices.  I really need to get to an Indian store for good curry powder.  Somehow even what I get at the co-op isn't up to snuff for most curried dishes.  But here a little bit of coconut milk, some red pepper flakes and the dynamic duo of garlic and ginger make a creamy sauce that coats both the noodles and the veggies.  A word of warning if you make this one yourself, though: don't overdo the red pepper flakes!  I like me some heat, but hooooboy.  It's not hard to make this one too hot!
Garnished with sesame seeds and scallions, this makes a heck of a meal.  Don't be deceived by the short ingredient list or the apparent simplicity.  You'll lick your bowl and then wonder why you didn't make enough to have leftovers.  I certainly know what's going to become of some of the broccoli in my fridge this week…