When I first got a copy of Happy Herbivore Abroad, I spent a little time going through it for recipes that looked like something I wanted to try.  By the time I finished, the book was bristling with bits of paper marking page after page of beautiful, tasty-looking food.  Among them was migas, a dish consisting of scrambled tofu, poblano peppers, green onions and, interestingly, toasted corn tortillas.
I'd heard of migas before but hadn't tried them.  The idea of scrambling bits of corn tortilla in with the tofu intrigued me, and the more I looked at the recipe, the more I wanted to make it.  At first, I was a bit wary of the fact that each serving contains half a block of tofu–completely my own hangup, given that I buy locally made organic tofu whenever I can.  I'm just not a big tofu eater!  But since tofu scramble is one of my favorite things to make when I do have it, I figured it was hard to go wrong with this recipe.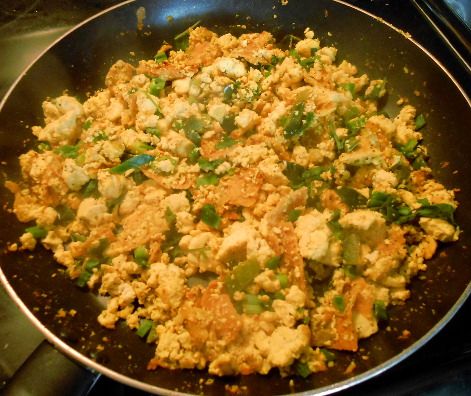 Before scrambling, you're supposed to lightly toast the corn tortillas in the oven.  I used the Ezekiel organic sprouted corn variety and promptly over-toasted them, so instead of being able to cut them up into nice strips, I kind of had to smash them apart with the knife.  They did start to soften up once they got mixed with the other ingredients, though.  And the smell?  Delicious.  I don't know if it was only from the tortillas or if the poblano added something, but the whole dish had an almost earthy aroma as it cooked.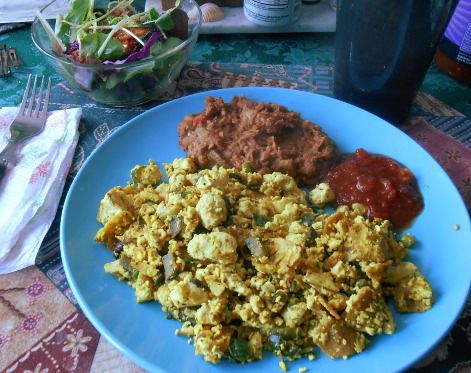 For some reason, I was hugely entertained by the idea of using every part of the green onions.  Usually recipes call for just the white parts or the white and light green parts.  Here, HH has you use everything, including the dark greens.  Never having done that before, it seemed sort of counterintuitive.  Once everything was combined, though, it not only looked colorful but also tasted great.
I wish I could pick out a distinct reason why it was so great.  I marvel every time I make a simple dish that turns out amazing.  It's always rewarding when basic ingredients come together to create a pleasing combination of flavors.  And, oddly, the migas wound up tasting more like scrambled eggs than any tofu scramble I've ever made!
Salsa and refried beans made a natural accompaniment, as suggested in the book.  For the beans, all I did was cook a bit of garlic, onion and green pepper before adding pinto beans and mashing them up with a little water and some Mexican seasonings.  I continue to buy salsa in a jar, though this year I'm hoping to make and can some of my own using a combination of red and orange tomatoes, and perhaps some tomatillos if I can find them at the farmer's market.
The verdict?  Migas rock.  Another winner from the HH series, and one I'll be keeping in my "arsenal" to satisfy future cravings for Mexican food.
What's your favorite simple, yet delicious, food combination?