It's no secret that I love recipes from the Happy Herbivore cookbooks, so when I had an opportunity to review the latest, Happy Herbivore Abroad, I jumped at the chance!  More than just a cookbook, this latest installment in the HH series contains stunning photographs of author Lindsay S. Nixon's travels around Europe along with personal narratives presented as a sort of travelogue.
As with Lindsay's previous books, the recipes in Happy Herbivore Abroad use everyday ingredients–no trips to specialty stores required.  In fact, with the included DIY recipes, you can save yourself some money on common ingredients like vegan mayo, tofu ricotta, vegan sour cream and, of course, hummus!  The book even has–are you ready for this?–a homemade substitute for red wine, which I've been desperately in need of since I don't cook with alcohol.
Each recipe is accompanied by an icon of its country of origin and the flag of that country.  Some have a pronunciation key that shows how to properly say the original names of the dishes, which is a lot of fun.  Also included is a quick reference guide at the top of the recipe pages so you can tell at a glance if a dish is free of gluten, soy or fat; if it's quick to make or comes together in one pot; or if you can make it using ingredients you already have around the house without breaking your budget.

I love the scope of this book.  Rather than limiting herself to one particular region, Lindsay shares iconic recipes from all over the world along with absolutely beautiful pictures from her visits to Europe.  The pictures accompanying the recipes are equally beautiful, making for a vibrantly-colored book that preserves the classic "herbie" style of the collection and yet feels somehow exotic.  There are stews and chilis, beans and grains, baked goods and pasta dishes.  There' even a section of international drinks!  Near the end of the book, there's a category devoted to American classics such as muffins, brownies and green bean casserole.  Whether you want a down-home cajun recipe or something traditional out of Italy, you'll find it all in Happy Herbivore Abroad!
Each snippet of the travelogue gives a little insight into what Lindsay saw and learned as she made her way through Europe, so it's almost like you're traveling with her, encountering delicious food along the way.  My favorite so far is a bit about European farmer's markets and fruit stands and how unique and different they are from those in the US.  I wanted to jump right into the picture of the market in Barcelona and bring home everything I saw!
Though I love the previous two HH books, I think Happy Herbivore Abroad is my favorite.  I really enjoy regional and ethnic foods, and the simple presentations in this book makes each dish accessible to everyone.  It's also the prettiest HH book to date, which just adds to how much fun it is to look at and use.  As I often do, I picked three recipes to try from this book to give it a proper test run!
1) Goulash (p. 20)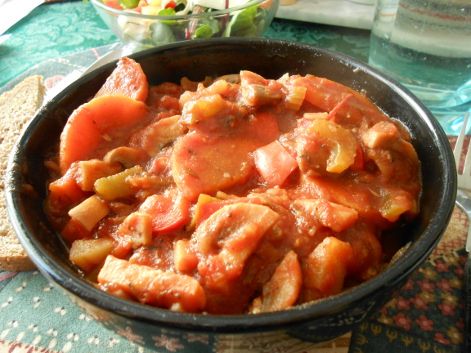 This Hungarian dish is full of delicious veggies like carrots, potatoes and mushrooms.  A bit of vegan Worchestershire sauce–something I wouldn't have thought to add to goulash–gives it a rich flavor.  The only thing I didn't like about the recipe was its lack of a specific amount of simmering time.  I'm very routine-oriented and like to be able to schedule an official "dinnertime," especially if I have to juggle more than one component to put the meal together.  Everything else was great!   I served it over some broken up whole wheat fettucini, but I'd love to try it with polenta sometime.  (Which, incidentally, Lindsay also provides a recipe for!)
2) Blueberry Cornbread Muffins (p. 249)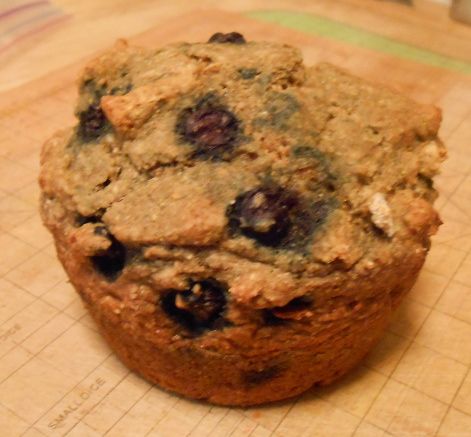 These took a bit longer to cook than the recipe called for, most likely due to the fact that 1) I made 6 large ones instead of 12 small ones and 2) I mixed the blueberries in while they were still frozen.  That's a tip I picked up from Vegan Brunch that's supposed to reduce the amount of blueberry juice that leaks into the batter, and it worked!
The only other change I made was to reduce the sweetener to 1Tbsp of maple syrup; I'm not a fan of sweet muffins.  Lindsay's combination of white whole wheat flour and cornmeal gives these a dense, pleasantly rustic texture.  I wasn't sure how much they would rise, but was pleasantly surprised to find hearty muffin tops poking out of the tin as they baked.  A few hemp seeds sprinkled on top would have made these even more amazing.  I enjoyed mine with blueberry jam for an even bigger blueberry flavor!
3) Aloo Gobi (p. 109)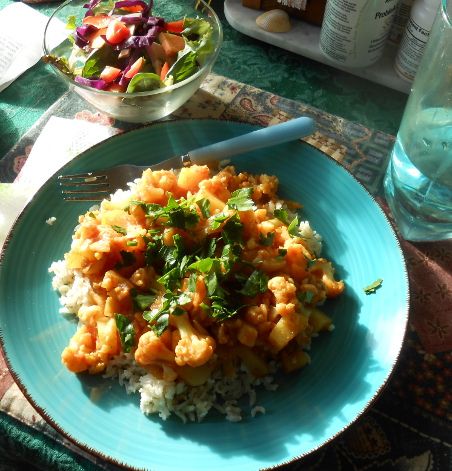 I love aloo gobi and got really, really overzealous cutting up vegetables for Lindsay's version.  I should have stuck more closely to her suggestions in the recipe, because I wound up with an entire serving left over!  Not that anyone complained; my mom wound up eating it for lunch a couple of days later and enjoying it all over again.
Because guys, this is pretty much the best aloo gobi ever.  So many Americanized recipes for Indian food lack something, usually ginger, but Lindsay hit the nail on the head with this one.  The flavor is incredibly robust for something with such simple ingredients.  Served over some wonderfully fluffy brown basmati rice from Trader Joe's, with a little bit of mango chutney, this stuff was so darn delicious that I could have just kept eating it until the pot was empty.  Best part about it?  So.  Easy.
Want your own copy of Happy Herbivore Abroad so you can travel through all the great recipes yourself?  I'm giving away a copy to one lucky QV reader, and it's easy to enter!
HOW TO ENTER:
Leave a comment on this post telling me what your favorite international dish is and why.
(US and Canadian entries only, please)
Congratulations to our winner, Kelly W! Enjoy your international vegan food travels! 🙂
As a little sneak preview, I've been given permission to share this tasty-looking Vegetable Korma recipe from Happy Herbivore Abroad.  I haven't had a chance to try it out yet, but if it's anything like the aloo gobi, I'm sure it'll be a hit in the QV house!
Vegetable Korma
from Happy Herbivore Abroad

Lindsay says: "There are two ways to make this delicious Mughlai dish. One is creamy, like a curry, and the other is more reminiscent of traditional dry Indian dishes such as Aloo Gobi or Aloo Matar."

Serves 2
vegetable broth
¼ onion, sliced
5 garlic cloves, minced
1 tsp ground coriander
½ tsp ground cumin
cayenne pepper,as desired
¼ tsp turmeric
1 potato, skinned and diced
2-3 carrots, skinned and sliced
½ c tomato sauce
½ c frozen peas
¼ tsp garam masala
For the curry version:
½ c nondairy milk
1⁄8 tsp coriander
½ tsp ground cumin
cayenne, to taste
Line a medium pot with a thin layer of vegetable broth and sauté onions and garlic over high heat until the onions are translucent, garlic is tender and the liquid has evaporated — about two minutes. Add more broth to reline the pot, plus potato and carrots. Sauté for another three minutes, then add coriander, cumin, cayenne as desired, and a couple dashes of turmeric, stirring to combine. Add tomato sauce, bring to a boil, and reduce to low. Cover and simmer until vegetables are fork-tender, adding additional broth as necessary, about five to ten more minutes. (You always want a thin layer of wetness on the bot­tom. Keep the coating around the veggies wet). Add peas, stir to combine, and heat for another minute or two to warm up the peas. Add 1/4 tsp garam ma­sala and stir to combine. Add salt to taste if desired. Taste, adding more garam masala or more cayenne (if you want it HOT) and serve.
For a creamy curry, stir in 1/2 c nondairy milk, plus 1/8 tsp coriander and 1/8 tsp cumin, and more salt or cayenne (or garam masala — I tend to add another 1/4 tsp) if desired.
Per serving: Calories 170, Total Fat 0.7g, Carbohydrates 35.6g, Dietary Fiber 7.3g, Sugars 8.2g, Protein 6.6 g
Curry version per serving: Calories 180, Total Fat 1.4g, Carbohydrates 36.1g, Dietary Fiber 7.5g, Sugars 8.2g, Protein 6.8g
You can find more of Lindsay's great recipes on  her blog at HappyHerbivore.com, follow her on Facebook or keep up with her on Twitter!