With the exception of Christmas Eve, holidays in the QV house are usually times when the flexitarians and omnis in the family revert to their meat-eating ways.  Christmas Eve has been my "domain," so to speak, ever since I went vegan, while my mom has stuck to omni traditions on other special occasions.  This Easter, however, she agreed to let me try this neat vegan ham recipe from Caribbean Vegan.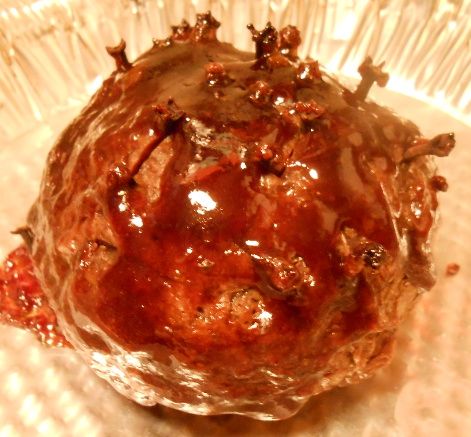 It's not really too different from making seitan, except the seasonings are more suited to faux pork and you make one big lump instead of several small ones.  Unlike seitan, you wrap it in foil or cloth and steam it rather than simmering it.  After that, it gets glazed and baked just like a regular ham.  I found a nice organic pineapple juice to use in the glaze that only had–gasp!–one ingredient: pineapple!  How rare is that?  In fact, the juice was the only ingredient I had to buy; I had everything else in my fridge and cabinets.  So despite being a "holiday" dish, it's pretty darn accessible.
Continuing with the "special occasion" theme, I picked up some asparagus and set about browning it carefully in a nonstick pan while the ham was baking.  I also threw together a batch of Caulipots from Appetite For Reduction with some garlic and herbs as that's pretty much my favorite way ever to make mashed potatoes.  And to sneak cauliflower onto my dad's dinner plate.
You'll also notice a piece of oatmeal muffin in the picture.  That's because, when I was a kid, my mom almost always made oatmeal muffins to have with ham.  Why?  I'm not sure.  But it always went well, so I pulled out the recipe for nostalgia's sake.  We also used to eat applesauce with our ham.  Again, not sure why, but that came out of the fridge, too, for a classic omni-style (but totally vegan) Easter dinner.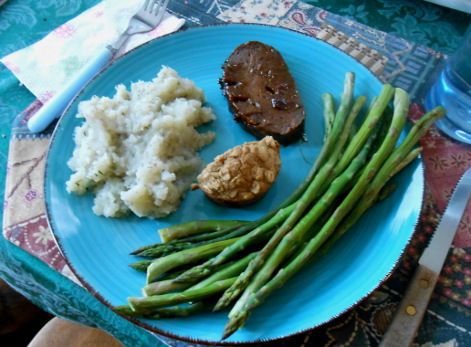 Unfortunately, despite having good flavor, the texture of the ham was horrible.  The ends were firm with a bit of a crust to them, but the rest was rubbery and close to inedible, and the glaze stuck to everything.  Though my parents enjoyed the meal, I was very disappointed in the outcome after putting so much effort into making it.  I blame my own inexperience rather than the recipe for this.  Though I have seitan and vegan sausages pretty well down pat, I haven't experimented much with other vegan meats.  Had I done a test run beforehand (as my mom often suggests and I, stubbornly, decide is unnecessary), I might have known how to tweak things so that the ham would come out more like ham and less like the rubber balls I used to get out of quarter machines when I was a kid.
What would I do different next time?
make two smaller hams instead of a large one
longer steaming time
longer baking time at a higher temperature
less glaze
That said, I do actually recommend this recipe if you find yourself wanting something hamlike.  It's quite authentic in both the look and the smell, and though it doesn't taste exactly like ham, it's not far off.  I enjoyed watching the ingredients come together and am considering making it again to see if the changes I have in mind fix the texture problem.
Honestly, I think the other reason I didn't get as excited about eating this as I thought I would is because I'm just not that into "protein/veg/starch" meals any more.  I much prefer one-pot dishes like stews and chilis, or things served over rice.  "The bowl" has become one of my personal favorites, to the point where I'll throw grains and beans together as a snack or a supplement to lunch.  So it's safe to say that my own personal preferences had a lot to do with my reaction to the ham.  If you try it out for yourself, please let me know what you think!