Happy Easter, everyone!  Hope you had a blessed and relaxing day complete with tasty vegan food.
Ever have one of those weeks where you don't have 5 minutes to yourself?  Yeah, it's been like that leading up to the holiday.  Not all in a bad way–I got to spend some seriously fun time in the kitchen making a whole host of Easter stuff–but busy enough that all I've wanted to do at the end of the day is collapse and vegetate.
Hence the utter lack of blog posts.  But I'm back now, this time to babble about barley.
Now rice…I like rice.  A lot.  To the point where sometimes I'll toss a few raisins and some cinnamon or a few beans and some Italian seasoning in a dish of rice, heat it up, and call it a snack.  I eat it in wraps and burritos, with chili and curry and sometimes even the dog gets a little in her food.  We're a rice-loving family here in the QV house.  Sometimes, though, it pays to mix it up a bit.
I know I already went on about using barley instead of rice to make pilaf, but it bears repeating, especially since the Forks Over Knives cookbook has more than one type of barley pilaf among its collection of recipes.  The second one I tried out had what struck me as an unusual cooking method for a savory dish.  Instead of cooking the barley in plain vegetable broth or with herbs, it calls for a cinnamon stick and a piece of orange peel.  I've seen things like this in recipes for hot cereal, but never for an entree.
Aside from that unusual addition, the rest of the ingredients were fairly simple.  Celery and carrots, onions and white beans plus one of my favorite herbs ever: dill!  Alas, I didn't have fresh dill on hand or any way to get some before I made the dish.  I settled for dried, starting with half of what the recipe called for because my mom isn't world's biggest dill fan.  Unlike me, who always wants more in any recipe that calls for it.  I even like dill-y hummus.  So of course I sprinkled extra on my own serving.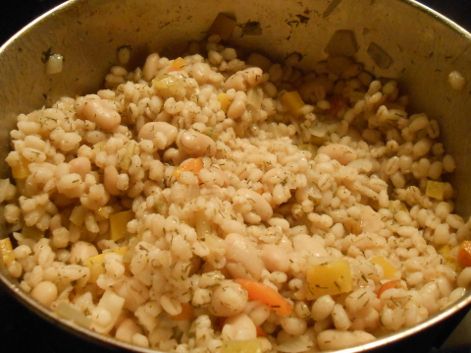 What got me going with this recipe, oddly enough, was the pizza I made for dinner the night before.  I'm a huge sucker for Mark Sutton's book, Heart Healthy Pizza, partly because it has about a zillion sauce recipes to use in place of cheese.  Some of them call for grains as a base, including barley!  After pouring a delicious barley, carrot and potato sauce all over that pizza, I realized again how delicious barley is and that I don't use it enough.  The smell alone is enough to drive any grain lover crazy.
Two things in particular stood out to me about the pilaf.  One was the texture.  Barley has a pleasantly firm "bite" to it, while white beans are more on the creamy side.  Together with the veggies, which were just right (not too hard or soft), it made a nice combination.  The other thing was the smell.  Almost the instant the barley started boiling, the kitchen was filled with a delicious blend of cinnamon and orange along with the unique scent of the barley itself.  This translated into a light cinnamon orange flavor that permeated the barley without overwhelming it.  What seemed like an oddball combination for a dinner dish turned out, in fact, to be pretty darn amazing.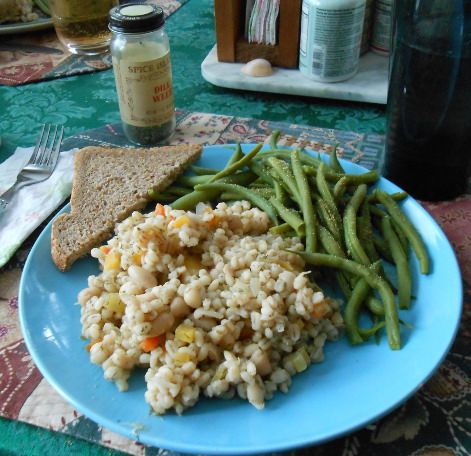 As simple and flavorful as it was, all this needed was a green veggie and some bread on the side.  I went with green beans, since we still have a ton of them put up from our garden.  (Green beans love it here.  Go figure!)  Salad would, of course, make a good accompaniment too, but I don't think a cooked leafy green would.  It wouldn't really jive with the cinnamon-orange theme.
Speaking of, I think it would be awesome to try simmering oatmeal or rice pudding with the same combination.  I'm imagining a light, fresh breakfast dish with some nuts or maybe dried fruit in it…I'll have to try that and see how it goes!
How do you add unique flavor to your grains?