My favorite recipes from Lindsay Nixon's Happy Herbivore cookbooks tend to be those that re-create classic non-vegan foods.  Take, for example, her chickpea tuna.  As a former eater of tuna sandwiches, I have to say that I like Lindsay's version much better.  She has some great "cheese" sauce recipes as well, including one that's remarkably like a certain well-known-but-really-bad-for-you mac and cheese product.  So when I saw the chickpea tenders in Everyday Happy Herbivore, of course I had to try them!
Who doesn't have fond memories of scarfing chicken nuggets or some equivalent when they were a kid?  I'm more than guilty of that myself.  There's something about bite-size food with dipping sauces.  Lindsay's chickpea tenders aren't bite-sized, but they could be if you wanted.  The basic recipe relies on some of the same techniques as veggie burgers and seitan, except it uses chickpeas and poultry seasoning along with a little faux chicken broth powder to achieve the "chicken" flavor.  Vital wheat gluten binds everything together makes a meaty "dough."  So really, you could form them into any shape at all; nuggets would just take less time to cook.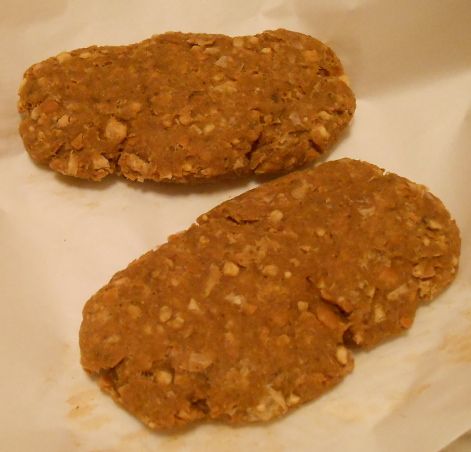 I've made these twice since getting the cookbook for Christmas.  My first attempt was tasty, but not perfect.  The tenders came out a little dry and salty, the latter perhaps being the fault of the poultry seasoning I picked up at the co-op in lieu of mixing my own.  The second time, they were much more tender with a crispy outside.  I don't know what was different since I made them exactly the same way, but boy were they good.  Both times, I served the tenders with barbecue sauce as per the way I used to enjoy chicken nuggets as a kid.  It was a great combination, though I would like to try them with vegan "honey" mustard as the recipe suggests.  They'd also make a fantastic sandwich–in fact, I think you could fool an omni into thinking these were actually chicken in a sandwich, at least as far as the flavor is concerned.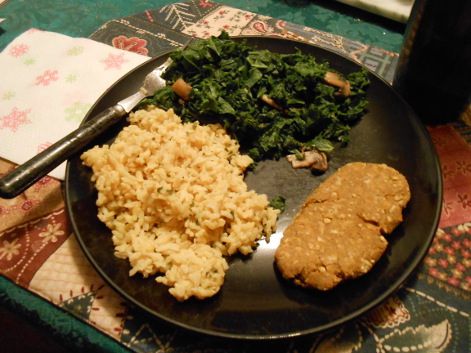 The great thing about these?  They're versatile as heck.  Served alongside seasoned rice and a green veggie (I cooked up some garlicky mushrooms and kale), they're a good meat alternative.  Pair 'em with vegan mac and cheese and a salad or steamed veggies, and you have a classic, nostalgic "kid's meal."  They are remarkably chicken-like, and I'd imagine you could even bread them or roll them in crushed flake cereal and have something rather like fried chicken if you were feeling enterprising.
Another success from an awesome cookbook author, and another victory for veganizing omni foods!