I'm sure it's obvious by now that I love the Forks Over Knives cookbook.  As the first cookbook that I bought for my Nook, it has a special place in my geeky heart.  Plus it's just plain awesome.  None of the recipes use any oil, they all focus on fresh ingredients (including fresh herbs) and quite a lot of them manage to take simple flavors and combine them in ways that make surprisingly delicious meals.  Such is the case with Penne with White Wine Mushroom Sauce.
Except that I don't cook with white wine.  I don't cook with alcohol at all, in fact, except what small amount is found in flavor extracts.  There are two reasons for this.  One, I don't drink; and two, the alcohol most called for in recipes seems to be wine.  Red wine makes me sick, and white wine makes my mom sick, so both are out!  What to do in the case of a recipe that says "white wine" right in the title?
Two words: vegetable broth.  Almost too simple, right?  No, it doesn't taste like white wine, but it makes the same light, translucent sort of sauce that you'd expect in a recipe like this.  It's always worked for me in the past, hence why I decided to use it for this particular dish.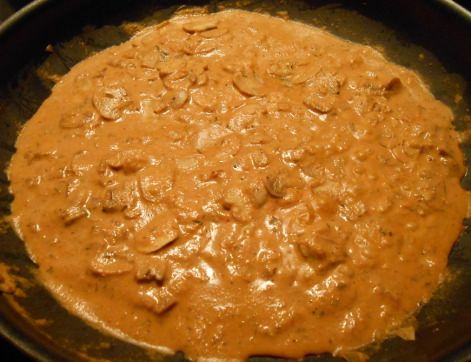 I'll be the first to admit that this is one of the least appetizing sauces I've ever made as far as appearance is concerned.  The weird orange color is thanks to a basic sauce from the cookbook, simply called "No-Cheese Sauce."  Essentially, it takes three ingredients that in no way resemble cheese–onions, bell peppers and nutritional yeast–blends the heck out of them and somehow results in a smooth, creamy sauce that makes a rather amazing stand-in for cheddar.  And this all happens rather magically with the help of a blender or, in my case, my mom's generic Magic Bullet equivalent.  It shouldn't work, it shouldn't be cheesy…but it does and it is.  The magic of vegan cooking!
So what happened to the white wine, you ask?  That part came first, forming the basis of the sauce with some sauteed onions and mushrooms.  Garlic and thyme came into play, too, along with the most unusual ingredient in  the recipe: nutmeg.  I was wary of this at first because it smelled ridiculously strong when I added it.  My concern was compounded by the addition of lemon juice and lemon zest.  I'm still getting used to using fresh citrus in cooking and it's always more prominent than I'm expecting.  Fresh thyme probably would have brought in yet another strong component, but all I had was dried so I can't say how it would have balanced.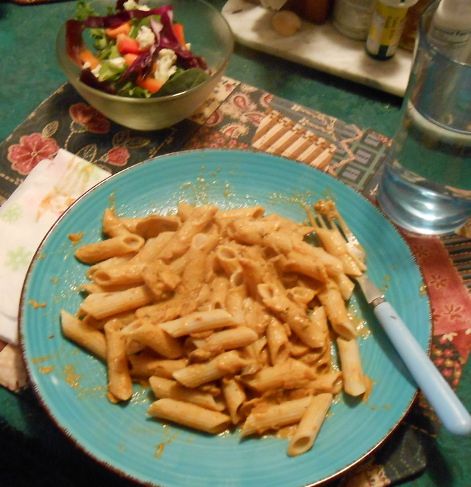 Either way, it turned out that I had nothing to worry about.  Somehow the seasonings, the mushrooms and the no-cheese sauce came together into something unique and delicious.  I can't say what it tasted like, because it didn't bring any other foods to mind; it's one of those things that has its own flavor and therefore tastes like itself.  But darn it if it wasn't tasty!  I wound up mixing the sauce with Jovial brown rice penne, something I first got a taste of in a box from Tasterie.  It's a nice, light gluten-free pasta, which I appreciate on days when I've already had a lot of wheat or other heavy food.  Plus it isn't sticky or gummy like some gf pastas I've had.  Of course, whole wheat penne would be tasty, too, if you were in the mood!
Other things this dish would be awesome with:
portabello mushrooms
spinach
chopped kale
a garnish of fresh cherry tomatoes and sprigs of thyme
Since this recipe was "a keeper" as my mom and I like to say, I intend to try another batch with at least one of these things.  Spinach and portabellos would be a great combination in this sauce, even without using the white wine.
Do you cook with alcohol?  If not, what substitutions do you make?