I've discovered that you really can't go wrong with barley.
Isn't it great how many basic, vegan-friendly ingredients there are that you can say that about?  A few others come to mind…
rice
beans
quinoa
kale
hummus
oatmeal
Until recently, I wouldn't have thought to add barley to that list.  Enter the Forks Over Knives cookbook and BAM!–life-changing.  Okay, maybe not life-changing.  But definitely mind-opening.  A change of perspective, if you will.
When you think pilaf, you think rice, right?  Me too.  Paging through the cookbook, though, I found a great deal of unique pilaf recipes, including a couple made with barley.  Since one also included sweet potatoes, which I buy in abundance whenever I can get a good price, I figured it would be worth trying.
One thing this particular recipe included that I'd never used before was fresh tarragon.  We've had a jar of the dried stuff on our spice rack for who knows how long, but like most things in the Forks Over Knives book, the pilaf called for fresh.  Knowing that fresh can make all the difference, I invested in some organic tarragon and set about making the dish.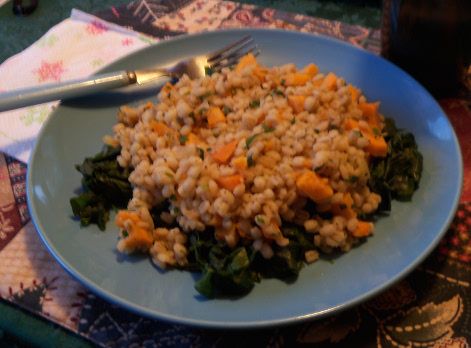 All I can say is–why did I never use barely in something besides soup before?  It has such a unique flavor even all on its own, and the texture is unlike that of any other grain that I routinely cook with.  Bigger and firmer than rice, more in the realm of farro when it comes to texture, barley is something special.  I kind of wanted to devour this dish and make it again so I could devour some more.  The tarragon gave it a taste similar to the licorice-like flavor of fennel but with a fresh, green aspect to it.  I'd love to try it in soups and stews at some point.  I think it would be interesting to swap out the bay leaf in a traditional stew with a little minced tarragon and see what happens.
The only thing I wish I had remembered to buy was a fresh lemon.  At the time I made this, I still had some bottled lemon juice hanging around, so I used that.  It added a lemony flavor but lacked the zing of freshly squeezed.  Between that tartness, the unique flavor of the tarragon, the bite of the barley and the classic taste of sweet potatoes, this was one heck of a unique dish.  I served it over some greens we had put up from the garden, but I think it would be even better on a bed of raw baby spinach, arugula or tatsoi.
So there you have it.  Barley joins my personal list of indispensable vegan foods.  What kinds of things do you use barley in?