I'm honestly not sure what the difference is between a casserole and a cassoulet.  All I can say is that, thanks to Robin Robertson, I now know that the latter is just as tasty and satisfying as the former.
(According to WikiPedia, a cassoulet is a "rich, slow cooked casserole originating in the south of France," so perhaps it's a casserole with a French accent?)
One-pot and one-dish meals appeal to me both in their simplicity and the fact that they tend to fall into the category of "comfort food."  The White Bean Cassoulet from Vegan Planet
is definitely in that category, though it doesn't technically qualify as one-dish since some of the filling gets cooked in a skillet before being transferred to the oven.  With onions and garlic as the base flavors to a combination of carrots and parsnips, this dish is hearty right from the beginning.  Add to that lots and lots of white beans and a topping of breadcrumbs, and you've got a filling meal fit for any chilly evening.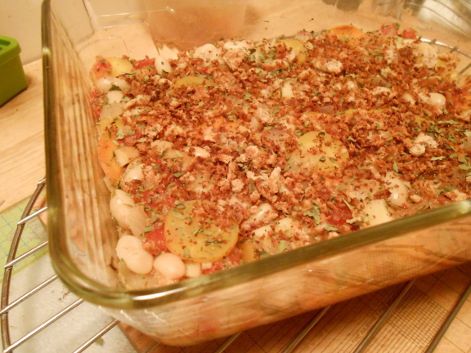 What I found interesting about this recipe was the combination of miso and Dijon mustard in the sauce.  Marjoram and thyme made sense as seasonings, since Italian-type herbs do tend to go well with white beans, but a mix of salty and tangy isn't something I would have thought to use with root vegetables.  When I think of a casserole, I generally picture plain vegetable broth or some kind of brown sauce or gravy bubbling along with the vegetables.  This dish did include a bit of broth, but the miso and mustard were the stars of the sauce.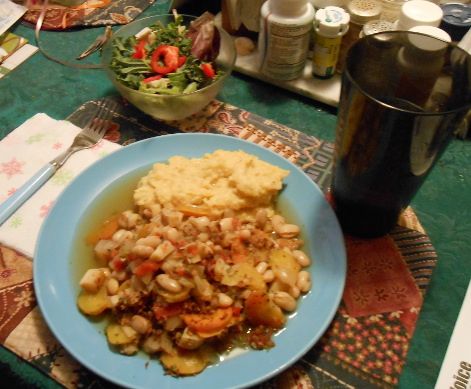 After considering the flavor combination of the cassoulet, I decided to serve plain polenta on the side.  It turned to be the perfect combination.  The simplicity of it balanced the earthy flavor of the vegetable and bean mixture, soaking up the sauce the way a thick slice of bread might.  You could, in fact, serve Italian or French bread with this to good effect, but I enjoyed the grainy corn taste of the polenta as a complement to the salty cassoulet.
In fact, the salt content is my only complaint about this recipe.  I don't really salt anything, and the things I do salt get only a fraction of what I think most people would use.  Putting miso and vegetable broth in the same dish was a bit of a shock to my taste buds; however, it didn't diminish the overall good flavor of the meal.  This is another winner from Robin Robertson, and definitely something I would return to the next time I'm craving a different sort of comfort food.