Do you like dinners that incorporate dried fruit?
Before going vegan, my answer would have been no.  Now, though, I find that I'm more than willing to try recipes that include the sweetness of raisins, dates or, in the case of Robin Robertson's veggie tagine from Vegan Fire & Spice, apricots.
Thanks to Trader Joe's, I've been keeping a lot of various dried fruits around the house.  Apricots were something my mom and I used to pick up elsewhere on occasion, and I realized recently that we hadn't had them in a long time.  I bought them mainly to snack on, but since they come in a pound bag, there were plenty for experimenting with come dinnertime!
Being that I'm a fiend for spicy food, Vegan Fire & Spice is one of my favorite cookbooks.  It contains my go-to recipe for jollof beans and rice as well as a nicely spicy jambalaya recipe that I'm fond of making when I want something with filé powder in it.  It also has several recipes that combine fruit with spice, like a white bean chili with vegan sausage that uses orange juice as part of the broth.  Since I like playing around with new flavor combinations, that sort of thing is right up my alley.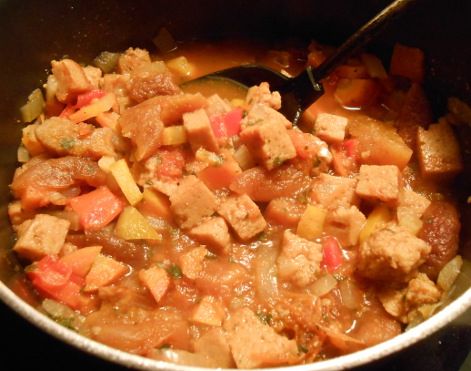 Apparently, tagine is Moroccan, which explains the spicy blend of ginger, coriander and cayenne.  The veggies in Robin Robertson's recipe included onions, carrots, bell peppers and tomatoes, the latter of which I could have added more of.  Instead of using canned diced tomatoes, I diced up what was left of a frozen tomato from our garden, but it turned out not to be quite enough to balance the other ingredients.
The apricots, on the other hand, were abundant.  The recipe called for a full cup of them, which worked out to about six apricots per person.  The sweetness of the fruit went surprisingly well with the seitan and seasonings.  Soaking the apricots beforehand gave them an almost juicy texture in the finished stew that I enjoyed a lot.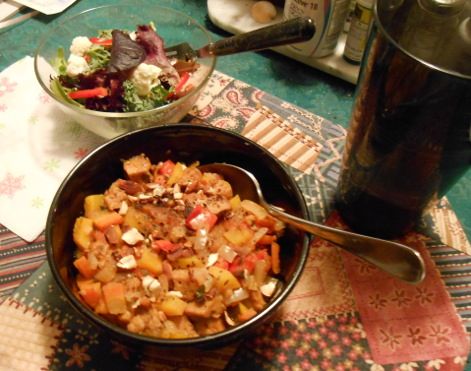 After a fair amount of simmering time, the stew was supposed to get finished off with lemon juice and Harissa sauce.  I didn't have any Harissa, but I did have a fresh lemon in the fridge which, as I think I've mentioned, is far preferable to bottled juices.  Freshly juiced lemons give dishes a bright flavor that you just don't get with processed juice.  While everything was finishing up, I crushed a few whole raw almonds to use as garnish in place of the slivered almonds called for in the book.  I love the little extra crunch that a topping of nuts adds to a recipe!
Served over wild rice blend, this stew was incredibly tasty.  For once, I didn't find myself having to add more cayenne to make it spicy enough, even without having used Harissa sauce.  All it needed was an extra squeeze of lemon juice to balance the flavors.   I was surprised by how a few simple seasonings resulted in a complex flavor.  Fresh ginger always adds a little something to a recipe like this, and along with the other spices it made for a very enjoyable meal.
I've developed a love of flavorful, pungent foods since going vegan, with African recipes near the top of my list when it comes to favorites.  As long as I can keep getting dried fruit for a good price, I'll keep trying out recipes like this one!
What's your favorite savory recipe that adds sweetness with fruit?