I recently sang the praises of Nava Atlas' book, Vegan Soups and Hearty Stews for All Seasons, and with good reason.  Focusing an entire cookbook on just one type of food means having to be unique, and you don't get much more unique than taking an iconic, non-vegan dish and turning it into a delicious vegan soup.
Because really, does it get any better than a bowl full of taco?
I can't remember what initially drew me to the recipe for Taco Soup, but the photo of it in the book's center spread helped seal the deal.  It shows a full soup bowl ringed with triangular tortilla chips in an artistic presentation fit for a restaurant.  I loved the idea of serving soup that way, and the prospect of doing so made it that much more enticing.
Turning tacos into soup meant combining something "meaty"–in this case, bulgur–with pinto beans and traditional taco ingredients like bell peppers, chiles and tomatoes.  I chopped up a fresh anaheim chili for a mildly zesty flavor and upped the amounts of chili powder and cumin a bit to give it more zip.  For the tortilla chips, I used a tasty baked blue variety I've been getting at Trader Joe's.  They're just as crispy as regular blue tortilla chips, but not nearly as salty or oily.
Another fun part of this recipe was the list of suggested garnishes.  I'm used to sprinkling nutritional yeast on chili, but for taco soup, the book suggests going all out with vegan cheese, chunks of fresh tomato and shredded lettuce.  I've been wary of prepackaged vegan cheeses since I stopped cooking with oil, so instead I whipped up a batch of the "No-Cheese Sauce" from the Forks Over Knives cookbook.  It didn't sit on top of the soup the way shredded cheese would, but it added a deliciously creamy dimension to the otherwise hearty texture.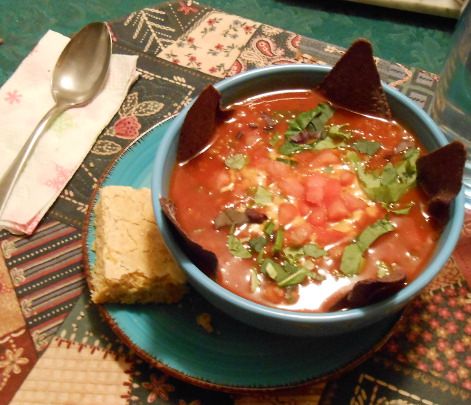 To round the meal off, I pulled out some leftover cornbread.  I had made a batch of the Bayou Cornbread from Everyday Happy Herbivore the day before, and it turned out to be the perfect accompaniment tosuch a flavorful soup.  According to the book, it's deliberately left unsweetened to be served with dishes like chili or gumbo.  It has a slightly grainy, crumbly texture that goes well with anything warm and spiced.
Though the tortilla chips got a little soggy, I liked the dish overall.  The soup lives up to its name in that it tastes just like a taco!  I enjoyed encountering the different flavors from the garnishes and munching on tortilla chips as I ate.  Serving it in tortilla bowls might be even better as long as they would hold together.  It was certainly another winning recipe from Nava Atlas, and one I'll have no problem making again in the future!