Quinoa and kale.  Are there any two other foods that scream "super vegan!" as much as these do?  Of course they're amazingly good for you, but there's something about them that strikes me as inherently vegan, as if the mere presence of either in a recipe makes it that much more satisfying.  So when I found the Quinoa, White Bean & Kale Stew in Appetite for Reduction
, how could I resist making it?  (You can also find the recipe over at the Post Punk Kitchen blog.)
I must confess that, before going vegan, I'd never heardof quinoa.  I didn' t know what it was.  I didn't even know how to pronounce it!  But since discovering it, I can't get enough.  White, red, black, tri-color…I love it all.  From the way it smells when it cooks to the slightly nutty flavor, it's become one of my favorite grains.
Kale, I have a more rocky history with.  As a kid, the only green leafy veggie I liked was spinach.  Everything else struck me as too bitter. (In case you were wondering, yes I was a sugar junkie!) As I got older, I started to warm up more to chard, but I didn't make peace with the magic that is kale until my brother introduced it to the family fridge.  I don't recall liking it much at first,  but at some point I must have changed my mind because now I feel like my produce collection is lacking without some kind of kale in it.
Back to the stew.  I've already mentioned that AFR is one of my favorite cookbooks, right?  There are so many recipes ranging from simple to ridiculously creative.  The quinoa kale stew falls squarely in the middle with its homemade herb blend and mix of classic comfort foods.  Leeks, carrots, parsnips, potatoes and, of course, quinoa and kale all make an appearance.  A can of white beans makes it a meal and adds the soft texture that all good comfort foods have.
Part of what makes this stew so appealing is the herb blend.  Instead of adding a bunch of stuff to the pot at a certain point during cooking, you pre-mix some fennel, marjoram, thyme, rosemary and black pepper to add all at once with the carrots and parsnips.  I have a hard time resisting anything made with fennel.  It has such a unique flavor, both the seeds and the fresh bulbs…I wish I had a good word for it.  Since I don't, I'll let the stew speak for itself: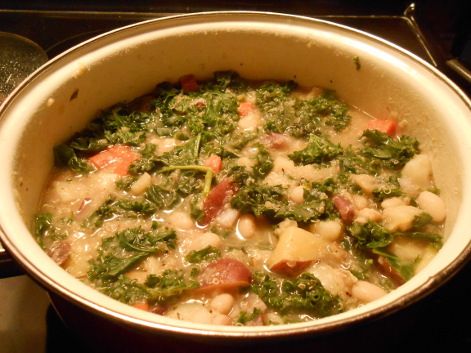 I made a few tweaks, as usual.  Since I couldn't find the rosemary I know we have around somewhere, I substituted oregano in the spice blend.  I also used a mix of potatoes: purple ones with yellow insides, regular garden-grown white potatoes and a few cute purple flingerling potatoes I found at the farmer's market.  To top it off, I added a dash of hot sauce–one of the suggested garnishes in the book.  I didn't want to make it spicy; I just wanted to add a little extra flavor to the mix.  Somehow, it was just right!
All the vegetables and herbs together with the quinoa and beans made a very hearty bowl of food.  I love dishes that incorporate a grain right into the recipe, hence my fondness for jollof beans and rice, quinoa chili and the like.  It makes the grain take on the flavor of everything that's in the pot and adds thickness.  The hot sauce gave it a slightly unusual, but not unpleasant, twist.  With some drop biscuits on the side, it was quite the delicious meal!  (At the time I tried this, I actually still had kale from my dad's garden hanging around, so that made it even more tasty!)
What foods do you feel are an inherent part of the vegan diet?