Christmas Eve was an interesting affair in the QV household this year.  On the 21st, we were hit with an unexpected wind storm that knocked the power out at 5:30 in the morning.  Three days later, we were still without power, even after most of our neighbors had theirs back.  I found myself panicking a bit because I had earmarked a very special recipe from Zel Allen's Vegan For the Holidays to make for Christmas Eve dinner.  Thanks to a handy Coleman stove that my dad bought a while back, we were able to cook during the outage; but the recipe I had in mind definitely required an oven.
Much to everyone's relief, the power returned at 7:30 that morning, giving me plenty of time to put together the unusual, but tasty-sounding, Tomato-Pine Nut Pine with Sweet Potato and Nut Crust.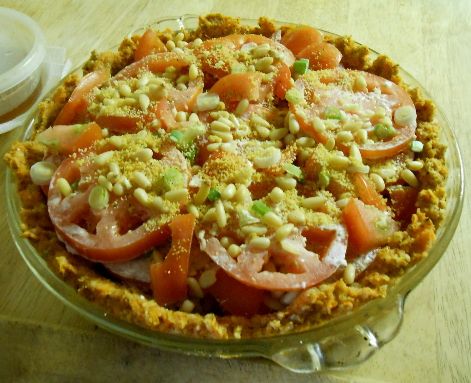 The name of the recipe outlines the major players in this unique dinner pie.  Boiled mashed sweet potatoes combine with ground almonds and, interestingly enough, some mashed tofu to make a crust that gets pre-baked.  While it's cooking, tomato slices get coated in cornstarch, ready to layer with green onions, raw garlic, pine nuts and vegan Parmesan.  It sounds like a lot of prep work, but it's really not as involved as it seems.   Instead of waiting until dinner to get everything ready, I teamed up with my mom to make the pie after lunch and put it in the refrigerator until it was time to cook it.  Between us, we were able to put it together in about half an hour, not counting sweet potato cooking time.
It's hard to find really good tomatoes this time of year, but luckily for me (and for the pie), a vendor at the local farmer's market is selling greenhouse-grown fresh ones all winter long.  I invested in several for this dish, and was happy to also have some Parmela on hand.  The one thing I neglected to buy, though, was an eggplant.  Zel Allen's recipe uses slices of eggplant to separate the tomatoes from the crust so that it doesn't get soggy when the tomatoes release their juices.  At first, I thought about leaving it out altogether, but I didn't want a sloppy pie.  In the end, I settled on using mushrooms instead since the texture and moisture content isn't too far off from eggplant.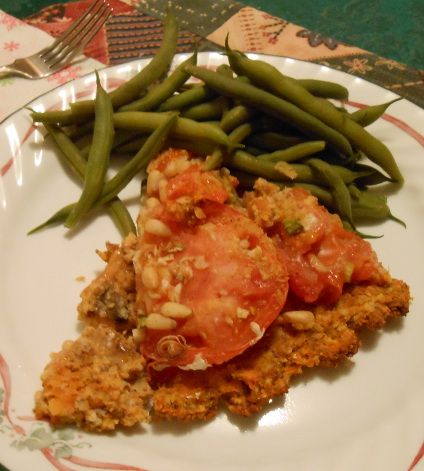 I can't vouch for how the pie tastes with eggplant, but with mushrooms?  Delicious.  I'll admit that I wasn't sure how all of the flavors were going to come together.  After all, the only seasoning aside from the garlic is some black pepper, and I didn't quite understand the role of the cornstarch on the tomato slices.  It turns out that, as the tomatoes cook, the cornstarch combines with the juice to make a sort of thick sauce that incorporates all of the flavors of the pie together into one warm, soft filling.  The mushrooms added a bit of an earthy flavor that my mom, dad and brother all agreed was a nice touch.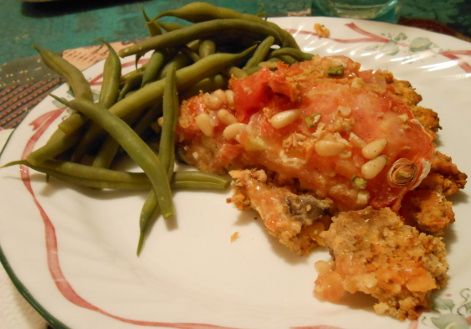 This is a decadent dish, but not in a heavy way.  It's the sort of holiday meal you can enjoy without having to worry about going into a food coma afterward.  And all it needs to make it complete is something green.  You can go for green beans like I did or make a big tossed salad for everyone to share. (In fact, the page just before this in Vegan for the Holidays has one playfully titled "Santa's Swanky Salad.")  Along with the warm red-orange color of the pie, it turns out looking pretty darn festive!
Big thanks to Zel Allen for yet another delicious recipe.  If you haven't seen the book yet, go check it out!  There's really no reason not to cook from it all year long.  My copy started sprouting bookmarks the day I got it, and I'm sure it'll grow a few more as I flip through it for dinner and dessert inspiration.
What did you eat this Christmas?  Do you have any special dishes planned for New Year's Eve or New Year's Day?