I realized recently that it had been ages since I made polenta.  My first foray into the world of simple-yet-tasty corn mush came not long after becoming vegetarian, when I made a veggie lasagna with polenta "noodles" for my brother's birthday.  Since then, polenta has dropped off my radar for no reason other than the regrettable fact that I forgot about it.
My loss.
Thanks to the Forks Over Knives Cookbook, I was re-introduced to polenta.  There's a quick recipe for it in the Basics section of the book, which I've used here as the base for a bake that includes vegetables and vegan "cheese" sauce.  I used the No Cheese sauce from the same section, but you can use any vegan cheese sauce that you like, or even shredded Daiya if you're feeling decadent.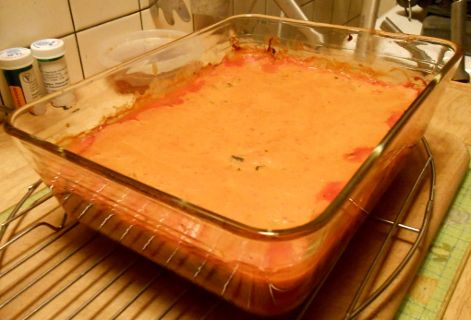 This is an easy, filling recipe that comes together without a whole lot of fuss, especially if you use jarred pasta sauce.  Or perhaps you have some special homemade sauce sitting in the freezer, waiting to add its deliciousness to your dinner.  Whichever you use, it's a tasty way to enjoy polenta on a chilly evening.
Polenta Bake with "Cheese" Sauce
Author:
Prep time:
Cook time:
Total time:
Ingredients
For the polenta layer:
5 cups water
1 1/2 cups cornmeal
1T vegan parm, optional
For the veggie layer:
2 garlic cloves, pressed or minced
1 cup onion, chopped
1 cup bell pepper, any color, chopped
2 medium carrots, cut into small dice
2 cups white mushrooms, sliced
4 cups kale, shredded
4 cups marinara sauce, homemade or storebought
For the cheese layer:
1 recipe your favorite vegan cheese sauce
Instructions
Prepare the polenta: bring the water to a boil. Add the cornmeal a little at a time, whisking constantly to avoid lumps. When all the cornmeal has been incorporated, reduce the heat and cook until thick and creamy, about 30 minutes. Stir in the vegan parm, if using, and transfer the polenta to a 9×13 baking dish. Spread out evenly and refrigerate until firm, about 1 hour.
Preheat the oven to 375F.
In a large skillet, saute the garlic, onion and bell peppers over medium heat until soft, about 5 minutes. Add splashes of water as necessary to keep the veggies from sticking to the pan. Add the carrots and saute until soft, about 5 minutes more.
Add the mushrooms and cook until just soft and beginning to release their juices, 2-3 minutes. Stir in the kale and cook until wilted, 2-3 minutes more.
Stir in the marinara sauce, reduce the heat and simmer for 5-10 minutes until thickened. While it's simmering, prepare your cheese sauce.
Pour the sauce and veggie mixture over the polenta and top with the cheese sauce. Bake for 20-25 minutes, or until hot and bubbly.