What do you get when you combine nuts and seeds with a little agave nectar and perhaps some dried fruit?
I've been chatting with the folks at Gravelnuts via Twitter for a while, and recently they were kind enough to let me try one of their mixes.  It was hard to decide on one, but after browsing the website I settled on Graveltropics, a combination of whole hazelnuts, almond slivers, sesame seeds, mango, pineapple and papaya sweetened with agave nectar and flavored with a touch of lemon extract.  Interestingly, rather than being part of the mix, the sesame seeds are used in the glaze on the hazelnuts and almonds.  I wasn't picturing that when I read the description, but it looks pretty neat when you open the bag up.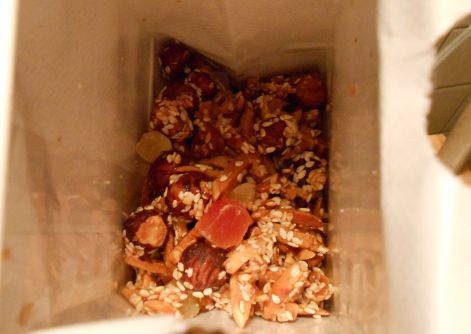 At first glance, all I could think of was Cracker Jacks!  Or peanut brittle, or toffee.  Except Graveltropics are much better for you.  They taste more like a treat than a health food, though!  I was expecting something sweeter when I saw agave on the list of ingredients, but was pleasantly surprised to find that the mix was just right, at least for my tastes.  The lemon extract gives it a flavor that's distinctive, but not overpowering.  It's also just a bit sticky, hence the mental correlation to Cracker Jacks, but not sticky enough to leave residue on your hands.  The bits of dried fruit reminded me of sugared gummy candies, only without the gross sugar coating.  In fact, the entire mix has the look and feel of a candy-coated bonanza and yet delivers a satisfying, just-sweet-enough flavor in a healthy package.
If you read their "About Us" section, you can see that's pretty much the whole point of Gravelnuts.  They aim to create tasty snacks without the added sugars and fillers that appear in most commercial snack foods, using quality ingredients to make their unique mixes.  If all of their products are as delicious and satisfying as Graveltropics, I'd say they've succeeded in that mission!  I wanted to try using the mix in muffins or granola, but it's so enjoyable in its own that I can't stop eating it as part of my afternoon snacks.  It's especially delicious when accompanied by some fresh pineapple–talk about yum!  I bet it would be great sprinkled on top of oatmeal, too.
Gravelnuts also offers nut mixes (Gravelnuts), seed mixes (Gravelseeds), cocoa-powder-coated nuts (Gravelsins, for you chocolate lovers out there), Gravelnuts Granola and Gravelnuts Go-Bars.  All feature some mix of nuts and seeds, with dried fruit appearing in the bars and granola.  Mixes are available in 6 and 16oz. bags; the granola and bars come in 12oz. bags.  If you'd like to try Graveltropics or any one of the these mixes for yourself, you can get 25% off your order with the code QVEGAN.
I'd like to extend a big thank you to the folks at Gravelnuts for sending along their delicious Graveltropics mix and allowing me to share its awesomeness with you.