Though pumpkin and other fall flavors will soon be swamped by all things peppermint and Christmas-y, there's still some time left to enjoy the comfort foods that can be made with this versatile squash.  I haven't invented any recipes of my own this year, but there are plenty of delicious ones floating around the blogosphere that are well worth trying.
If you're looking for something to warm you up on a cold day, you can't go wrong with the Pumpkin Quinoa White Bean Chili that recently appeared over at Manifest Vegan.  Now, I've made chili with sweet potatoes and chili with butternut squash, but never with pumpkin.  Usually when squash pops up in chili or stew, it appears in chunks, but this recipe uses canned pumpkin puree.  And no wonder; October and November are prime months for finding sales on the stuff, including tasty organic varieties!
This stuff was so warming and smooth that I kept going back for more.  All I had to change from the recipe was to add a little extra cinnamon, cumin and chili powder, which made it just spicy enough.  And that's saying something, given that I'm the one who usually has to add hot sauce or cayenne to anything that's supposed to be spicy!  I love that there are pumpkin pie spices in this chili along with traditional chili spices.  It made for a unique and delicious combination!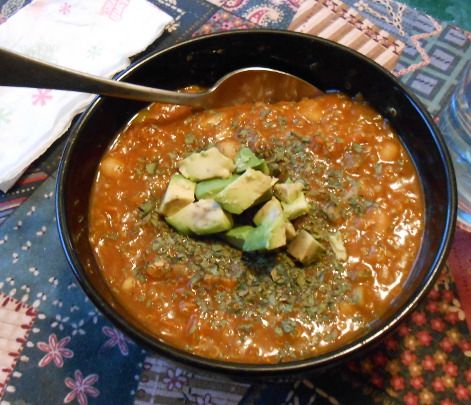 I also loved the addition of diced avocado as a garnish.  It fit right in with the smoothness of the chili and added a creamy texture.  This is definitely a "keeper" recipe–perfect for the cooler weather of fall or even the dead of winter, if you happen to be in the mood for pumpkin.
Another one to try is Pumpkin Apple Harvest Rice from the ever-creative Healthy. Happy. Life. blog.  Whenever I want something a little different, I sift through the things I've bookmarked from this site.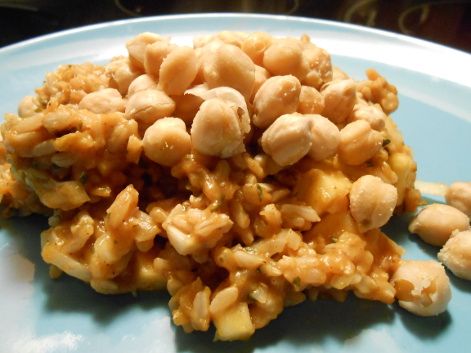 In this recipe, canned pumpkin is included as part of a sauce that also has maple syrup and cinnamon.  Almost sounds like it could be dessert, doesn't it?  In fact, one of my first thoughts on tasting this is that it would make quite a delicious breakfast in fall or winter.  Like the pumpkin chili, it has that particular warming flavor that's characteristic of autumn comfort food.  Onions and apples get mixed in raw instead of being cooked first, giving it a pleasant crunch.  The pumpkin sauce makes the rice very, very creamy, so there's a nice contrast between the two textures.  Along with some walnuts and raisins, it makes for a great mix.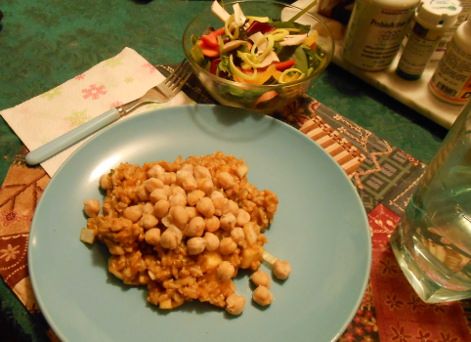 I upped the amount of rice a bit to bulk the servings up to dinner size and added the optional chickpeas.  I think I would warm them up with the pumpkin and syrup mixture if I made this again, though.  This time, I popped them in the microwave without thinking and they started to explode!  Other than that, this dish was just as much of a success as the chili.  I am seriously considering making it for breakfast sometime!
That's all for my recent forays into pumpkin (aside from a tasty batch of muffins that I forgot to photograph).  What are your favorite fall-themed ingredients and recipes?