Over the last few years, my family has embraced a lot of vegan options for Thanksgiving.  We make the pumpkin pie from The Joy of Vegan Baking and a delightful oil-free vegan stuffing from VegWeb.  However, I have yet to convince them to let me cook a completely vegan Thanksgiving dinner, meaning that I'm on my own when it comes to the main course.
Last year, I went the easy (and tasty) route with the veggie and dumpling stew from The 30-Minute Vegan.  Wanting something different this year, I turned to the abundance of sweet potatoes that I picked up for cheap at the store last week.  Every Thanksgiving the stores seem to go into a sweet potato price war, so we always wind up  having a lot around the house.
Not that I'm going to complain!  Sweet potatoes are one of my favorites.  And since I already knew they went well with black beans, I decided to go with that combination.  But what to make?  The more I thought about it, the more I was in the mood for some kind of comfort food.  Then it came to me: hash!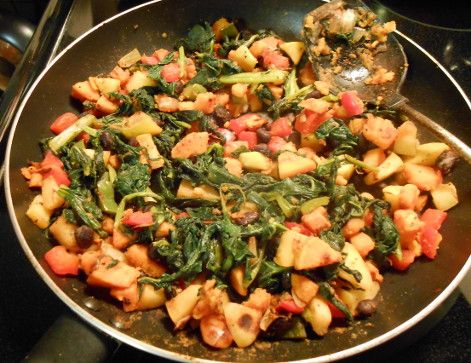 I did a lot of browsing of hash recipes around the Internet, trying to put together a combination that appealed to me and work out what kinds of seasonings would be best to use.  In the end, I settled on onions, bell peppers, apples and collards in addition to the beans and sweet potatoes.  I waffled on putting the apples in, but I'm glad I did.  They added a sweet touch that complemented the other flavors well.  With inspiration from one of the Internet recipes, I added a little smoked paprika along with liquid aminos and black pepper.
The smoked paprika makes this dish, I think.  The sweetness of the potatoes and apples along with the earthy beans was delicious with that touch of smokiness.  If you haven't tried this stuff before, I highly encourage you to pick some up.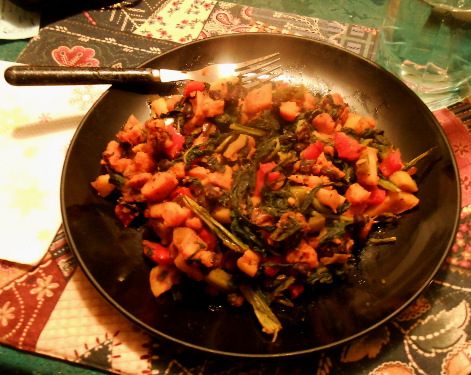 I used thawed frozen collards for this recipe, but you could use fresh if you have them on hand; they'll just take a bit longer to cook.  Kale or spinach would work fine, too!
Thanksgiving Sweet Potato Hash with Black Beans & Apples
Author:
Prep time:
Cook time:
Total time:
Ingredients
1 medium onion, chopped
1 large red bell pepper, chopped
2 large sweet potatoes (about 1 3/4lbs.), baked, cooled and cut into small chunks
1 large green apple, cored and cut into small chunks
2 cups cooked black beans, rinsed if canned
fresh or frozen greens (spinach, kale, collards, etc.), thawed if frozen
liquid aminos, to taste
smoked paprika, to taste
black pepper, to taste
Instructions
Heat a large skillet over medium heat. Add the onions and cook until starting to brown, about 3 minutes. Add small splashes of water to the pan if necessary to keep the onions from sticking. Add the bell pepper and cook until softened, about 5 minutes.
Add the sweet potatoes and apples. Cook, stirring occasionally, until browned on most sides, about 10 minutes.
Add the beans, liquid aminos, smoked paprika and pepper and stir to combine. Add the greens and cook, stirring occasionally, until the greens are wilted (if fresh) and everything is heated through. Serve hot.