Whew!  After a whirlwind jaunt through NaNoWriMo land, I'm back!  I meant to blog over the last couple weeks, I really did, but then I got it in my head that maybe I could finish NaNo in half a month instead of a month.  And so sparked fifteen days of furious writing, which didn't leave a whole lot of brain space for anything else word-related.
So to make it up to you, I present a recipe I tossed together a while back after purchasing a lovely butternut squash at the local farmstand.  Alas, though it is now closed for the winter, there are still squashes a-plenty at stores and farmer's markets.  There's really no excuse to not be eating squash this time of year!
This is pretty much a variation of "the bowl," though it's a little more involved than most bowl recipes.  I was craving butternut squash curry, but couldn't find a recipe that I liked.  Any kitchen-loving vegan knows what that means: time to invent!  Figuring you can't go wrong with roasted squash, I cubed the squash up and stuck it in the oven.  You can't really go wrong with kale, either, so I made that the "green" component of the bowl by wilting it in a saute pan with some water.  A little brown rice, some chickpeas, and voila!  A full meal in a bowl.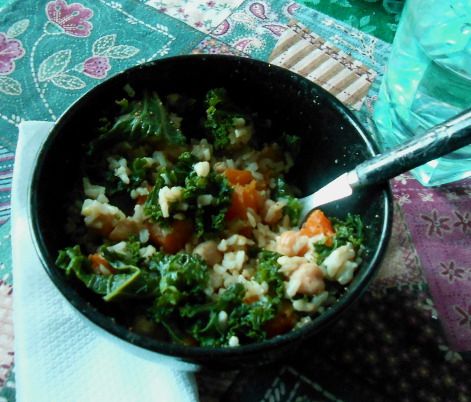 All that was left was the sauce.  Since I wanted curry, I used this recipe for coconut curry sauce, but you can use any kind of sauce you want, really.  Even just a drizzle of liquid aminos would taste great on this.  As long as it's something that goes with the roasted sweetness of butternut squash, it'll work!
I roasted the squash without oil on a parchment-lined baking sheet, but if you prefer, you can drizzle it with a little olive oil before popping it in the oven.
Roasted Butternut Curry Bowl
Prep time:
Cook time:
Total time:
Ingredients
1 cup brown rice
2 cups water
1 medium butternut squash, peeled and cut into 3/4-inch chunks
1 bunch kale, coarse stems removed, roughly chopped
2 cups cooked or canned chickpeas, rinsed if canned
sauce of choice
Instructions
Preheat the oven to 400F. In a small saucepan, bring the water and brown rice to a boil. Lower the heat and simmer, covered, for 45 minutes or until the liquid is absorbed.
Line a baking sheet with parchment paper. Place the squash cubes on the sheet in a single layer and roast in the oven for 30 minutes, stirring once.
When the squash is almost done cooking, place the kale in a saute pan with a little bit of water over medium-high heat. Cook, stirring occasionally, until the kale is bright green and tender, about 10 minutes. Prepare the curry sauce.
Place 1/4 of the rice in a bowl, top with 1/4 of the kale, 1/4 of the squash and 1/2 cup of chickpeas. Drizzle with sauce and enjoy!