What do you do when the offerings at farm stands and farmer's markets roll over from summer squashes to winter ones?  I don't know about you, but I get pretty darn excited about the prospect of making just about anything that involves roasted butternut squash.
Think about it.  Butternut squash have a fun, bottom-heavy shape that sits happily on a shelf or in the fridge until you're ready to use it.  They're a bit of a pain in the butt to peel, but when you're rewarded with the sweet, almost syrupy flavor of roasted butternut flesh, it's all worth it.  The trick is finding just the right recipe.
I was recently able to pick up a lovely organic butternut squash at the local farmstand–which, alas, has now closed for the season–and The Post Punk Kitchen delivered just the sort of thing I was looking for.  I didn't know it was what I was looking for until I found it, but as soon as I saw the recipe for Butternut Rancheros, I knew I'd hit on a winner.  How can you not want a whole plate of charbroiled butternut squash the moment you set eyes on it?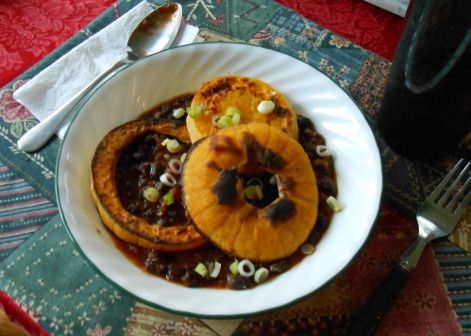 I was intrigued by the sweet/hot combination of roasted squash and ranchero sauce.  I've always been a fan of things that mix complementary flavors (chili chocolate, anyone?), and given that I'd been jonesing for roasted butternut, I couldn't resist.
I'd only tried roasting veggies without oil once before, and the result turned out a bit drier than I would have liked.  But I was up for trying it again with this recipe, so I lined a baking sheet with parchment paper and kept a close eye on the squash while it cooked.  Or rather, a close nose; I've always found smell to be a good indicator of when something is going wrong with food.  The only time I smelled something amiss was when the parchment paper started to char a bit during the final run under the broiler.  Other than that, the squash roasted up just fine without any oil at all.  Soft on the outside, sweet on the inside…it was everything I'd been craving in my quest for roasted squash.
The ranchero sauce turned out a bit chunky thanks to my lazy use of a mini food chopper rather than a real blender, but that had no effect on the awesome flavor.  In fact, it was a bit more spicy than I was expecting thanks to my brilliant idea of using red habenero and Hungarian wax peppers instead of jalapeno.  This has been my go-to hot pepper blend as of late, given that's what I got the most of from the garden this year.  Red habenero has a nice kick, but boy do you have to be careful with it if you want to keep your mouth from rebelling!
A bonus of this dish is that it's as fun to look at as it is to eat.  As per Isa's suggestion, I served the ranchero sauce and beans in some decorative shallow bowls, then topped it with the squash.  It looked so good!  And it tasted good, too, despite the unexpected level of heat.  It had an almost smoky flavor that resonated well with the sweetness of the squash.  There's really not much else I can say besides YUM!
And try this recipe.  Because Isa comes up with some awesome stuff.