Have you ever asked yourself, "Lentils or beans?"
…all right, me neither.  But if you ever do find yourself in that conundrum, the lentil chili recipe in the Forks Over Knives cookbook will solve it by not forcing you to choose.  Red lentils and red beans appear in this thick and flavorful concoction that's good with or without added heat.
The funny thing about this recipe is that, despite being pretty much your standard chili, it tastes so much fresher.  I'd attribute that in part to using real lime juice and zest.  I'll admit to being one of those people who kept bottles of lemon and lime juice around until recently.  It's much easier to grab a bottle and pour out a measure of juice than it is to get out the manual juicer and the microplane grater to juice and zest an actual fruit.  But I'm learning that the time it takes to do that is rewarding in terms of flavor.  Probably in terms of health as well, given the odd added ingredients in those bottled juices.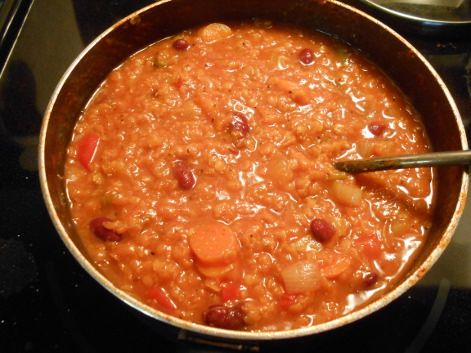 In addition to the lentils and beans, this chili is full of veggies.  It has onions, bell peppers and garlic like you'd expect, but there's also celery and some carrots, plus a can of crushed tomatoes.  Plus there's plenty of classic chili seasonings to spice it all up.  The one thing I didn't have for this recipe that would have made it even better was smoked paprika.  Or chipotle chili powder.  I did chop up a bit of dried chipotle chili, but the flavor didn't come through very much.  Since then I've run across smoked paprika several times in other recipes, so I grabbed a little the last time I was at the co-op.  I'll have to try it out soon; it smells amazing.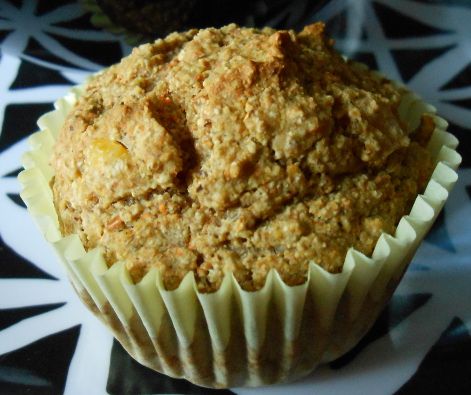 Speaking of amazing, what's a hearty bowl of chili without an equally hearty corn-based bread of some kind?  These whole grain corn muffins were suggested as a side, so I did what any muffin-loving vegan would do and checked out the recipe.  Being as it's also from the Forks Over Knives cookbook, it's much more in line with the way I prefer to make muffins than other recipes tend to be; that is, applesauce instead of oil and a low amount of sugar.  Not quite low enough, though.  I'm used to lightly sweet muffins, so I reduced the sweetener by about two-thirds and they came out lovely.  Instead of regular flour with the cornmeal, they called for oat flour, which I made by whizzing oats in a spice grinder.  The end result was a muffin with a wholesome, whole-grain texture that needed to be inhaled on sight.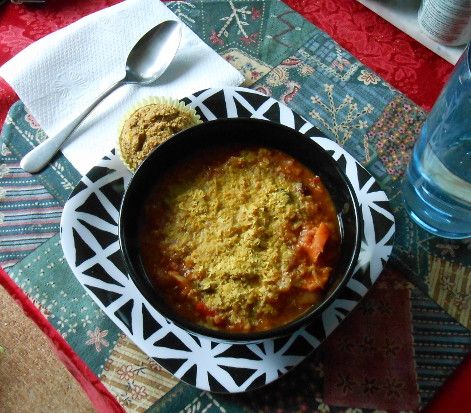 The day I made this was on the dreary side, just the sort of day that calls for a warming one-pot meal.  And this chili delivered!  Hearty and filling, it was delicious with a bit of nutritional yeast sprinkled on top.  Add the corn muffin to dunk in and sop up any excess spicy sauce and it was the perfect combination to bring a boost to a "blah" day.
What "convenience" ingredients do you keep around?  Have you tried switching to a fresh version, and did it make a difference?