According to Appetite For Reduction, caldo verde is a Portuguese potato and greens soup, making it perfectly suitable for serving to a "meat and potatoes" crowd.  Caldo verde even has a Wikipedia page.  (Then again, what doesn't??)  Being a fan of potato and greens soup recipes in other cookbooks–notably the one in Veganomicon with the enormous potato crouton in it–I couldn't pass up the chance to try another one.
What's not to like about potato soup, really?  Potatoes have a certain creamy quality no matter how you prepare them, which translates very well to soup.  Vegan soups especially seem to benefit from the presence of potatoes, since a quick whirr with an immersion blender can turn a chunky potato concoction into something velvety and smooth, reminiscent of favorite cream soups.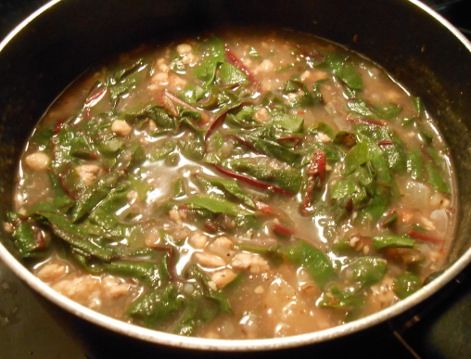 The AFR recipe has some immersion blender action, but some of the potatoes are left intact to give the soup the hearty bite that only perfectly cooked potatoes have.  It calls for chard as the green, but I deviated from the color scheme just a bit and bought red chard.  The bright lines of color shooting through the leaves of red and rainbow chard really get me.  Regular chard tastes just fine, but not having that zip of color makes it feel like it's lacking something, at least to me.  So red it was, making this a potato and red-greens soup, I suppose…
So what makes this soup sausage-y while still being vegan?  Fennel, of course!  I'll tell you something funny about fennel.  I used to love "everything" bagels from, of all places, Price Chopper.  But one time when I was a kid, we bought them at a store in another town and for some reason the bakery at that particular Price Chopper included fennel seeds as part of the "everything" mixture.  I cannot begin to describe how disgusting that was, especially for a kid whose only exposure to fennel was in sausage.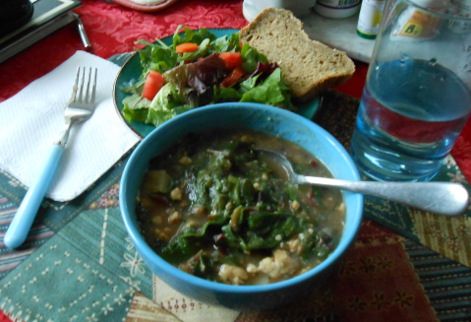 I still probably wouldn't want fennel on my bagels, but these days I love it as a seasoning.  For the caldo verde, it was perfect.  Of course, you can't just throw in a little fennel and expect everyone to imagine the sausage part, so there's some crumbled steamed tempeh in there as well.  It added just the right texture to the silky bite of the greens and the thick, creamy base from the pureed potatoes.  I served it up with some gluten-free bread and a little side salad with some carrots and tomatoes.
With nighttime temperatures dipping low enough to frost now, it's definitely soup weather.  I can't think of a better way to warm up than with potatoes and greens.  And sausage-y fennel, of course.