Hands up if you love all things curried!
That's me, the curry fiend.  I can honestly say that curry changed the way I eat.  Cauliflower?  Hated it.  Curried cauliflower?  Yes please.  To the point where I now love cauliflower in all its forms, including raw.  But one of my favorite curry combinations is still spinach and potatoes, which probably explains why I'll try any curry recipe that boasts something firm and chewy along with a whole lot of greens.
Like the Chana Saag from the Forks Over Knives cookbook, for example.  No potatoes, but plenty of chickpeas, which I also love to the point where I'll munch a few, unadorned, if I feel like a meal or snack is missing something.  Then there's spinach, tomatoes, hot peppers and plenty of curry spices.  What, I ask, is not to like about that?
True to form, I made one notable substitution before cooking: kale instead of spinach.  Why?  Because the kale in our garden, which was looking so lovely not too long ago, spontaneously fell victim to a rash of cabbage worms.  In an effort to save at least some of it, I headed outside with my trusty pizza scissors and chopped off what leaves still looked edible.  There were still plenty of those sneaky little worms hiding, though, so the kale had to do some time in a cold salt-water bath before I could even think of putting it in curry.
This is a source of embarrassment to me, I must admit.  Last year, I was very diligent about checking the kale for invaders.  Now I fear that the remaining kale is a lost cause.  Fortunately, my dad's garden seems to have been immune to little green wriggly terrors this time around, so there will be a bit from there.  And there's always the farmer's market.
I digress.  Chana saag, with kale.  Using garden kale, of course, required that I also use garden-grown tomatoes.  Given the size of the bag of green ones that we had to harvest after a recent frost, I think I'll be using a lot more of them in the near future.  I love the way that they actually taste red, rather than the tomatoes you get at the store.  (Which sort of taste like water.  Really bad water. ) Half a Hungarian wax pepper and a bit of red habenero, both also from our garden, added a little zip to the mix.  I was forced to leave the fenugreek out of the mix of curry spices without a substitution, but I'm definitely going to have to get some to keep around in the future because I think it would have made everything even more curry-like.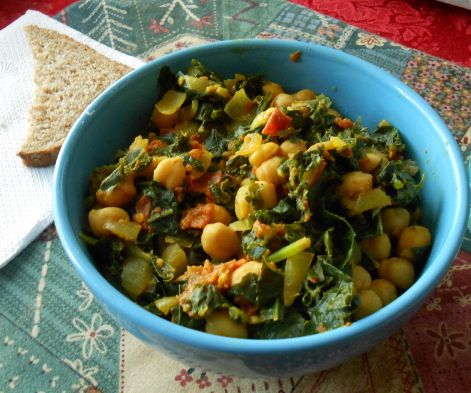 Even without the fenugreek, though, this dish was delicious!  I really enjoyed the mix of hot spiciness and flavorful spiciness.  There was just a bit of almond milk in it too, making a red-tinted sauce that mixed well with the brown basmati rice I served it over.  And since it was from the Forks Over Knives book, there was no oil involved, so the whole curry had a fresher, lighter flavor than those that use upwards of three tablespoons. (Not naming names, but there are some!)  I would make this again in a heartbeat, maybe trying potatoes instead of chickpeas.  But then I'd have to change the name…
What type of cuisine could you happily eat every day?  Indian?  Italian?  Japanese?  Mexican?  Tell me about it in the comments!