I make so many bean and rice dishes that I usually don't bother to post when I encounter yet another new recipe.  This one, though, is worth posting about  What struck me about it is how the rice is cooked.  Most bean and rice recipes either have you make the rice separately and stir it in at the end or serve the bean mixture over the top.  Some, like my favorite jollof rice from Vegan Fire & Spice, cook the beans and rice in the same pot with some veggies.  For Mexican Green Rice and Beans (straight out of 1,000 Vegan Recipes), it's a whole different thing entirely.  Or almost entirely.
The very first thing you do is roast a green bell pepper and a hot chile under the broiler in the oven.  Once done, they're peeled and pureed along with a bit of broth, some onions and garlic, and a few seasonings.  The resulting green goop gets added to the rice along with enough broth to cook it, giving the rice its green color.  Toss in some kidney beans near the end and it's a whole new rice and bean dish!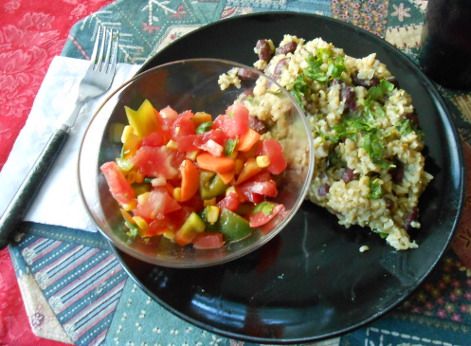 As with several other recipes I've tried recently, this is one that I never seemed to have everything together for in the past.  I would either be lacking one of the peppers or simply wouldn't feel like going through the roasting process.  But I'm glad I did!  In addition to using brown rice instead of white for better flavor and nutrition, I was able to incorporate one of the hot peppers from this year's garden and a fresh green pepper that I obtained from someone in the Friday knitting group I go to.
Great story there.  Apparently she and her husband went pepper picking and wound up with way more than they could use.  She showed up one afternoon with a basket of peppers and announced, "Okay, ladies, three for a dollar!"  I promptly bought six: three green and three red.  Really, how can you pass up fresh produce at that price?
And what better to serve with green rice than a red salad?  My dad's prolific tomato crop has afforded a lot of opportunities for fresh tomato dishes.  For this meal, I went back to my chopped tomato salad recipe and garnished it with some cilantro.  The cool, juicy texture of the tomatoes made a great complement to the subtle spiciness of the rice.
Even though it has a few more steps to it than the bean and rice recipes I'm used to, I'd be more than willing to try this one again.  I love unique twists on common foods, and this was a lot of fun to make!