I love sweet potatoes.  Steamed, baked or mashed, sweet, savory or spicy…you name it, if it's vegan and there's sweet potato in it, I'll try it.  That's why I had to follow my first foray into the Forks Over Knives cookbook with a test of the Spicy Thai Sweet Potato Stew.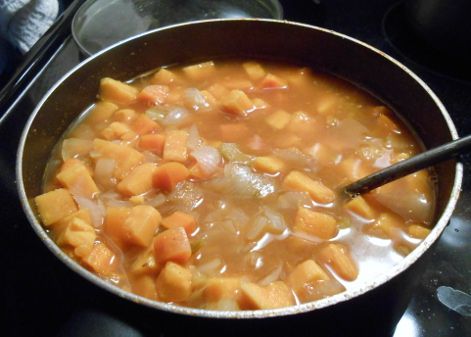 This stew is packed full of good things.  A huge amount of sweet potatoes (of course), but also onions, celery, carrot, garlic, ginger and hot peppers.  Since I got so many hot peppers out of the garden this year, I've been using whatever is on hand regardless of what a recipe calls for.  In this case, instead of serrano, I used half a Hungarian wax pepper and about a third of a small red habenero.  Call it adventurous, call it foolish…I just like hot food!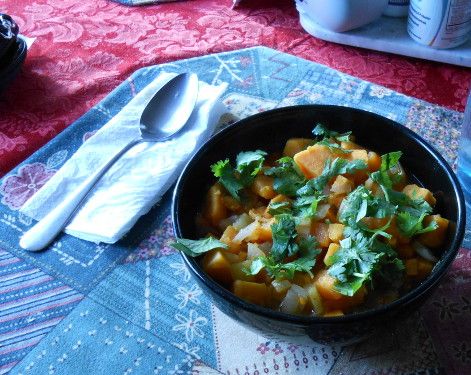 According to the book, the goal of this recipe was to balance sweet, tangy and spicy flavors, achieved with the use of the hot peppers and ginger, fresh lime juice, copious amounts of red chili paste and an optional addition of cayenne.  For once I actually had a fresh lime on hand, which I always enjoy.  Fresh juice and zest are so much better than the so-called "real" juices you find on store shelves (which always turn out to be from concentrate).
Does anybody know of a brand of Asian chili paste that isn't full of garbage ingredients?  I couldn't find one, so I substituted diluted Thai curry paste.  I was a bit worried that the difference in flavor profile would negatively affect the recipe, but it didn't seem to!  In fact, it added an extra dimension of spiciness, which of course I love.  Since my mom doesn't like things as spicy as I do, I left the cayenne out of the main recipe and added a little extra to mine when serving.  Though the stew was plenty spicy without it!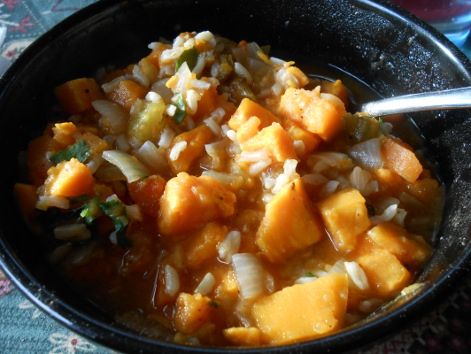 In fact, it was the perfect balance of sweet, tangy and spicy, just as the recipe promised.  It even smelled like a combination of the three, which turned out to be indicative of the final flavor.  Served up with a little brown basmati rice and some cilantro for garnish, it was a delicious and satisfying dish.  I would make this again any time!  Not only do the sweet potatoes take the starring role (there being 4 cups of them in the total recipe), but they also provide a bulk of the sweet flavor, which is the perfect backdrop for the other flavors.  I've made other spicy sweet potato dishes and enjoyed them all, but this one had something special.  It's a new favorite of mine that I'll keep in mind for whenever I can find a decent price on sweet potatoes.  Which should be pretty often, considering we're coming to that season soon…
Have you tried any dishes lately that became instant favorites?  What were they, and what made you love them?