Before taking the Certificate in Plant-Based Nutrition course this summer, I decided to invest in a Nook.  I'd been resisting the eReader trend because the bibliophile in me is still staunchly devoted to physical books.  I love the weight of them, the way they look lined up on a shelf and even the way they smell.  All the same, I had been eyeing tablets and knew that I wanted something with tablet functionality…but not at tablet prices.
After some research and a lot of deliberation, the Nook Tablet got my vote.  I've been in love with it ever since.  It's better than hauling my 17″ laptop around when all I need or want to do is browse the Internet.  It lets me read books from the library's digital collection.  Plus I can browse and download knitting patterns whenever I want, a fact that comes in handy at the weekly knitting and spinning group I go to.
One other very important thing my Nook lets me do is buy cookbooks.  I love physical cookbooks just as much as regular books, but there are so many amazing ones that if I keep up with my current rate of collection, my bookshelves are likely to collapse under the weight.  So when Forks Over Knives – The Cookbook
came out, I decided to make it my first digital cookbook purchase.
I'll tell you right now, this is a cookbook everyone should have.  Whether or not you've seen Forks Over Knives yet, whether or not you've even touched on the idea of whole-foods, plant-based eating, the recipes in here are to die for.  My first "official" test of it was to make the Sweet Potato and Cauliflower Rice Pilaf.  (I had previously tried the sweet potato pie oatmeal and found it to be a little too sweet for my low-sugar tastes.)  I love Indian-inspired dishes and I adore rice, so whenever the words "rice pilaf" appear, I'm hooked.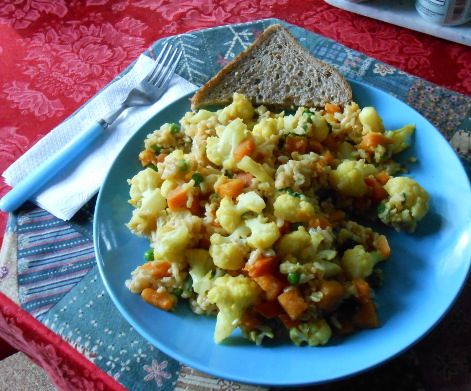 Where do I start with this recipe?  It's so chock full of deliciousness!  Onions, carrots, sweet potatoes, cauliflower, peas, garlic, fresh cilantro…truly as much a feast for the eyes as for the taste buds.
I suppose the logical place to start is with the rice.  Normally when I make dishes like this, there's a sauce or broth in the main part that soaks into the rice when you serve it, giving it extra flavor.  In this recipe, though, the rice gets its own flavoring from vegetable broth, a cinnamon stick, cloves and cardamom pods.  I've noticed that this is pretty characteristic of recipes throughout this particular cookbook: they encourage the use of fresh, whole ingredients rather than pre-prepared or packaged ones, which makes sense when you consider that the message of Forks Over Knives is all about the benefits of whole-foods eating.
Needless to say, dumping all of those pungent ingredients in a pan together and letting the rice soak in the flavors made for an amazing smell throughout my whole house that was still there in the morning.  I'd never bought whole cardamom before, and out of the three spices it was definitely the most aromatic.  The rice even took on a nice brown color over and above its natural one.  I would cook rice like this and just eat it–never mind the vegetable part!
All of the veggies got cooked in a saucepan with a very minimal amount of water–no oil in this cookbook!  I'd never cooked sweet potatoes that way before.  I'm used to recipes that involve boiling or simmering to tenderize hard veggies and so was a little skeptical.  I honestly didn't think this method would do it for sweet potatoes.  It worked out just fine, though, except I think I cut the cauliflower a little too big because it took longer than it should have to get soft.  Lesson learned!  Not adding much to the pan in the way of liquid resulted in nicely caramelized onions as well, which I'm going to keep in mind when modifying other recipes to use less oil.
This was good with a bit of chutney.  My mom and I like a lemon fig variety we get at the local co-op, but any fruit chutney would do.  It might also be nice with some naan or roti, but I wasn't feeling enterprising enough to make any.  We just had a little bit of sprouted bread on the side.  All in all, a fantastic introduction to a new cookbook!
Canadian readers!  Looking for some delicious recipes for Thanksgiving next week?  Check out Zel Allen's Nut Gourmet blog for a great roundup of recipes to make your day delicious!  QV is featured along with several other bloggers, so you won't be wanting for tasty vegan dishes to wow your omni guests.