The fun part of having a food blog is being able to share great food with people, which is why I love the Running With Tongs Vegan Care Package Swap (formerly the Cook. Vegan. Lover. Swap)!  This year I was paired up with Lee of The Vegan Version, and let me tell you, I feel like the most blessed swap partner ever.  Lee really outdid herself with a generous box full of goodies that arrived on my doorstep last night.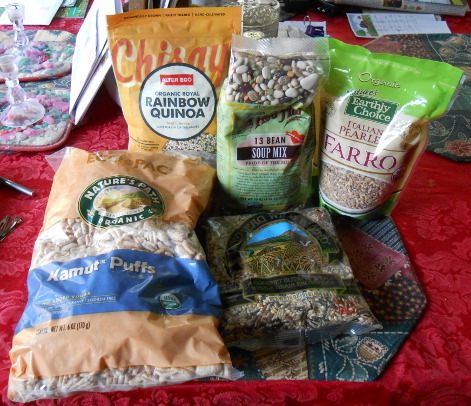 The first thing to catch my eye was this marvelous collection of grains, beans and cereal, which included:
I don't think I have to reiterate how much I LOVE grains.  Two in particular stood out.  One, the Kamut puffs.  Kamut fascinates me for some reason.  It has a similar texture to rice but is more chewy, and makes a delicious base for "the bowl."  Recently the co-op has had Kamut flakes on sale, but I've left them on the shelf in favor of rye flakes, which are cheaper.  But Kamut cereal?  I'm all for that.  I can't wait to try it mixed up in one of the big fruit-and-cereal bowls I make on occasion.  It might even taste good sprinkled on oatmeal; I'll have to see!
Two, the farro.  One of the local newspapers has been singing the praises of ancient grains recently, farro in particular, so of course I've been meaning to try it.  Lee read my mind by sending along a package.  I will definitely be working a farro recipe into next week's dinner plans.  It doesn't seem to be well-represented in cookbooks yet, but I'm sure Google will turn up something.  (Feel free to suggest farro recipes in the comments, too!)
I'm not sure what I'll do with the other things yet.  I already know I love rainbow quinoa, and the rice blend seems like it would be a tasty change for beans and rice.  And I don't think you can go wrong with 13 bean anything.  Chili, perhaps?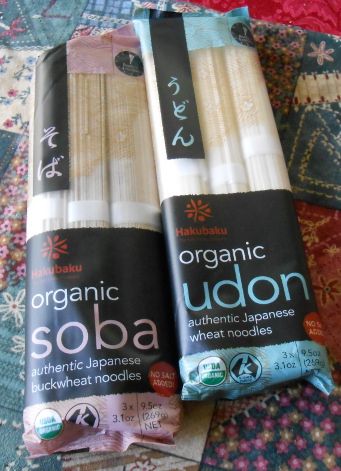 My mom and I were ridiculously happy to see these!  We're both fiends for pasta and noodles of all kinds, and we happen to have just used up our supply of soba.  Plus neither of these noodles has added salt.  My first foray into udon yielded a variety that, for some reason, had 700mg of sodium per serving and made for dishes with really nasty salty aftertastes.  These should be much more pleasant to eat.  I've got them earmarked for the udon noodle bowl from The 30-Minute Vegan.  The soba will probably go into some of my mom's lovely soba noodle soup, or perhaps be eaten with dipping sauce.  Maybe a bit of both!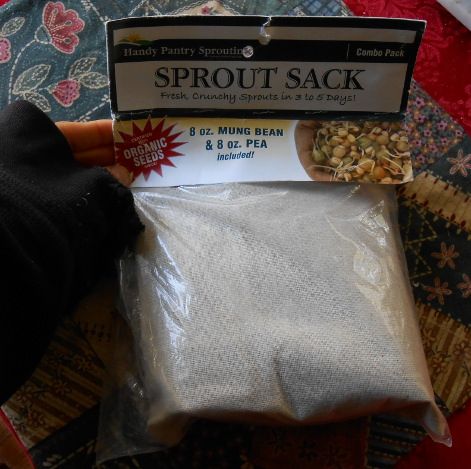 THIS IS A SPROUT SACK.  I know it says that, so there's no reason for me to shout, but…SPROUT SACK!  It was all I could do not to tear this open and start soaking sprout seeds the moment I saw it.
My brother was the one who introduced me to sprouting.  He has one of those plastic tray sprouters, and for a long time it wasn't unusual to open up our refrigerator and find it in the bottom drawer, sprouting away.  He ate sprouts on oatmeal, which I always thought was a little weird, but I couldn't argue because he wasn't adverse to sharing.  There's nothing like fresh sprouts on a sandwich or salad!  Alas, since he went away to school, there haven't been any around.  Now that I can sprout my own, I fear that I'll become addicted and be forced to eat fresh sprouts all the time.
Poor, poor me.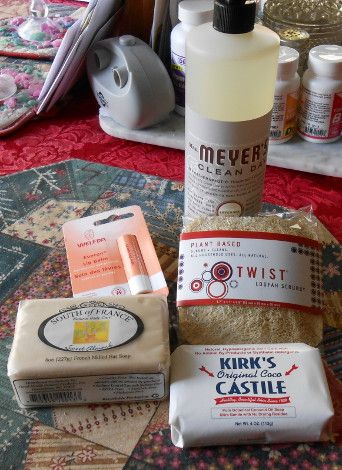 And what sharing of awesome vegan stuff is complete without soap?  The big South of France bar in the foreground smells almost exactly like the Voortman windmill cookies I used to suck down when I was a kid.  Next to anise, almond is my favorite extract to use in baking.  Smelling like it is going to rock.
Kirk's Castile is another favorite around my house, and Lee read my mind again with the scrubber or the dishwashing liquid…we needed both!  With winter coming, I'll need the lip balm, too.  It gets way too cold around here not to have some way to protect my lips!
Yet another awesome swap haul this year.  I'll make an effort to post when I use the various ingredients in recipes, especially that farro.  It's going to be exciting to see what I can cook up with all this great food!  Thanks, Lee!