Let me start by saying that there's absolutely nothing wrong with this recipe for Rustic Tomato Pie.  But in making it, I learned something.  Despite the fact that I'm pretty good at multi-tasking, I shouldn't talk on the phone and cook at the same time.  Feel free to giggle at me for this realization.
The cauliflower was my biggest problem.  I've mentioned that, when I can get produce for a flat price per bunch or head, I grab the biggest one I can find.  This is especially true with cauliflower, since I love it and can't argue with having lots of it on hand.  However, I didn't take this into account when estimating how much the "1/2 head" called for in the recipe should really amount to.  I suspect it didn't mean 1/2 of a nearly 3-lb. head.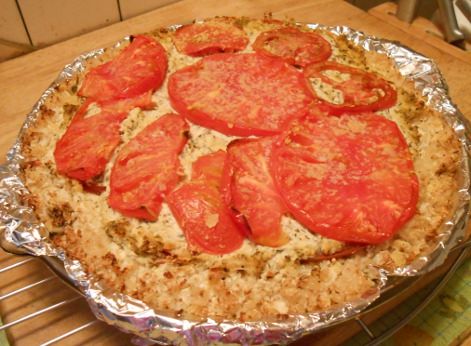 Having too much cauliflower threw off the balance of rice, cauliflower and tofu in the pie crust, resulting in something that didn't stick together as well as it should have.  It also made a whole heck of a lot of crust, to the point where I found myself wondering how I was going to fit the tomatoes and filling that were supposed to go inside it.  Add to that the fact that being on the phone distracted me enough that I forgot to put in the garlic, and you'd think I'd have wound up with a recipe for disaster.
Thankfully, that wasn't the case!  Once I layered slices of freshly picked garden-grown tomatoes with the seasoned tofu filling and baked the whole thing, it turned into a decent savory pie.  I had to use dried herbs instead of fresh, and I think it would have been much more flavorful were that not the case.  The pictures in the original recipe show sprigs of fresh herbs, and it makes me want to try the recipe again right after a shopping trip or farmer's market visit where I could get my hands on some good organic Italian seasonings.
One thing my pie definitely needed?  More tomatoes.  The ones I picked were on a small side, and I would have loved to have had more warm, tomatoey goodness layered around the filling.  I love tomatoes warm from the oven, whether baked, roasted or stuffed, and since this is supposed to be a tomato pie, I think it's pretty important to use enough of them!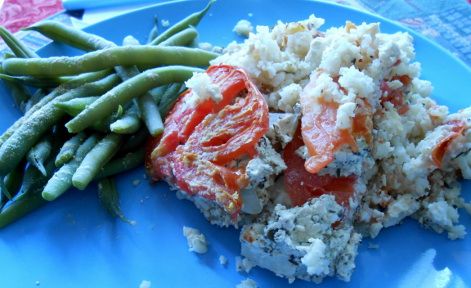 If I make this recipe again (perhaps for Pi Day, as the original poster did!), I think I'll put all of the crust ingredients in the food processor, rather than the just the cauliflower.  I feel like that would help it to bind better and make a firmer foundation.  I might also throw some turmeric in the filling; mine didn't come out as nicely yellow as the stuff in the recipe post, which I found kind of disappointing.
Oh, and I wouldn't be on the phone while cooking it.  I've learned my lesson!