"But what do you eat for the holidays?"
This is one of the most common questions that vegans get asked, right up there with where we get our protein and whether or not we're allowed to eat chocolate.  And I'd say that the new cookbook from vegan chef Zel Allen answers it nicely!
Vegan for the Holidays
provides dozens of delightful recipes for Thanksgiving, Christmas, Hanukkah, Kwanzaa and the New Year.  Zel has covered all the bases here; I've never seen another vegan holiday book that includes such a diverse mix of recipes.
From vegan patés and seasonal soups to phyllo pie and hearty roasted vegetables, the Thanksgiving section will dazzle even the staunchest of omnivores.  Christmas recipes include a colorful spinach, beet and pomegranate salad; a not-so-traditional main dish yule log made from chickpeas; and homemade panforte that one of Zel's testers described as "amazing" and "TOPS!"  A quick glance through the Hanukkah section reveals traditional dishes such as tzimmes, cholent and potato latkes.  For Kwanzaa, you get a taste of African-American cuisine whether you choose to make the groundnut stew or go for some spice with the okra creole.  New Year's is presented as a "soup and chili bash" starting with appetizers, moving on to warming main dishes and finishing up with festive drinks and desserts.
Eight high-gloss pages of pictures manage to cram in gorgeous photos of over two dozen recipes, most of them arranged in attractive layouts that will put you in the mood for a holiday feast.  Who can resist garlicky roasted cauliflower or tempeh-bacon-stuffed mushrooms?  I know I feel inspired to cook up an entire holiday spread every time I flip through these pages!
While I haven't gotten a chance to do that (yet), I did try a couple of the recipes that caught my eye.  First up was White Bean and Root Vegetable Soup.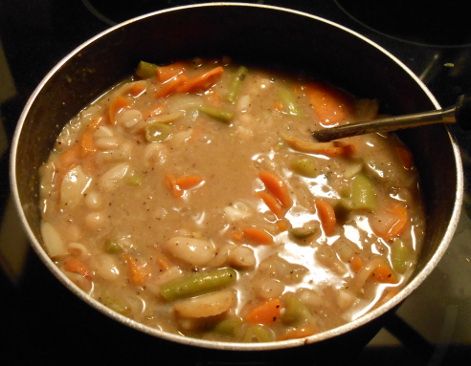 Two words, guys: star anise.  Yes, this soup is full of delicious, hearty, healthy ingredients like white beans, carrots, parsnips and green beans, but when I saw "star anise" in the seasoning mix, I was sold.  I can't get over how cool they look, or how it smells when I open up the bulk spice container to buy a few at the co-op.  I should have grabbed a cinnamon stick while I was at it, because it turned out that we didn't have any and I had to substitute about a 1/2 teaspoon of ground cinnamon instead.  And, as always, I left out the salt.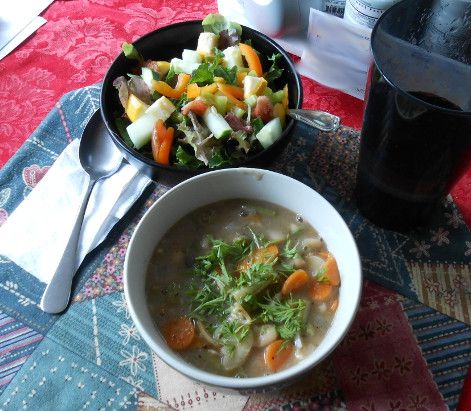 This soup is meant to be started with dried beans but, lacking those, I used canned canellini beans instead.  That meant having to add a couple ingredients in with the soup itself rather than cooking them with the beans, and I had to include an extra cup or so of water to make enough broth.  The soup didn't seem to suffer for it, though.  In the end it was thick, almost like a stew, with warming, spicy flavor.  I may have peppered it a little too much, but I love peppery soup!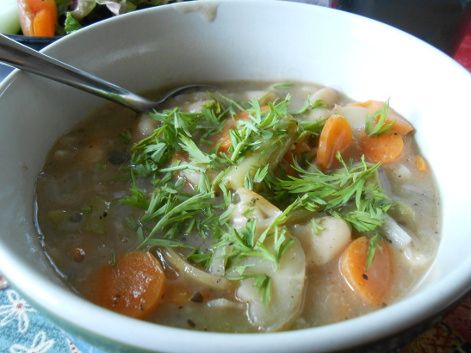 I didn't try adding diced apples for garnish as the recipe suggested, but I think that would be delicious.  In fact, I think you could probably put apples in this soup and have it taste great.  I did mince up a few carrot greens in lieu of parsley, which worked out well.  The green you see is my new parsley replacement: carrot greens!  I always seem to have some around these days, and they work very well if you don't have any fresh parsley on hand.
Carrot and Sweet Potato Tzimmes were my second experiment.  Though I was surprised by the 2 1/2-hour cooking time, I couldn't resist trying them.  And let me tell you, this stuff is worth every minute.  In fact, having a dish that bakes for that long frees you up to make whatever else you want, which can be a big help around the holidays!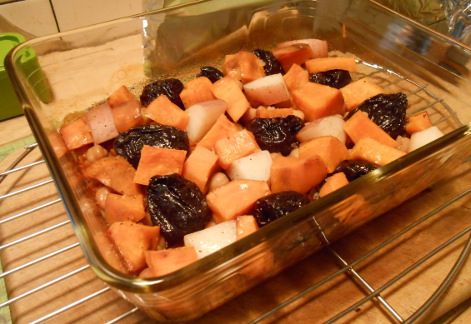 I'd heard of tzimmes before and poked around a few other recipes on the Internet, all of which seemed to require steaming or boiling the potatoes first to keep the baking time down.  After making this particular concoction of carrots, red potatoes, sweet potatoes, prunes and chickpeas, I don't think I'd want to do that.  The seasoning mix is only cinnamon, maple syrup and a little pepper, but the long time in the oven bakes the flavors in, turning it into one big pan of soft, creamy comfort food.  As everything started to cook, it filled the entire house–not just the kitchen–with a sweet cinnamon smell that lingered.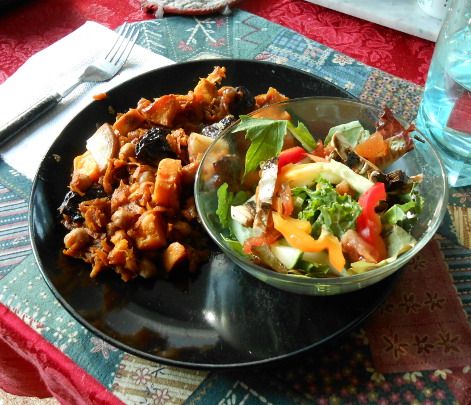 And it tasted exactly like it smelled!  Zel's tzimmes is definitely a new winter comfort meal for me.  It's got everything going for it: amazingly sweet and cinnamony flavor, soft texture and even great color.  I must confess that I'd always shied away from prunes before this, possibly due to bad childhood memories of prune juice, but it turns out that they're pretty darn good.  I wasn't sure at first, but the taste grew on me as I ate.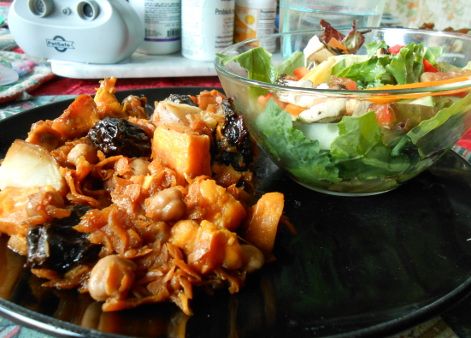 The only thing I left out were the ground walnuts listed as garnish, as I'd already eaten a lot of nuts the day I made this.  After enjoying the smooth texture of the tzimmes so much, I don't think I'd use them at all.  I'd imagine it's a matter of personal taste.  I did include a little crunch by serving a kale and veggie salad on the side.  With the chickpeas in it, the tzimmes was so filling that it didn't need anything else to be a full meal.
Some other recipes I plan on trying as the holidays get closer:
Tomato-Pine Nut Pie with Sweet Potato and Nut Crust
Barn Burner Chili (a slow cooker recipe!)
Jamaican Jerk Tofu
Almond Thumbprint Cuties
There are a bunch more, but if I listed them all, I think I'd wind up reprinting the entire contents of the book.  It takes a lot to make me, the perpetually cold upstate New Yorker, look forward to winter, but these recipes just about do it.  The almond cookies have dates in the middle!  How can I resist adding them to my Christmas baking lineup?
Vegan for the Holidays gets two thumbs up from QV, for sure.  Add it to your arsenal before the holidays, use it for the holidays and show the confused omnis in your family what a delicious vegan celebration tastes  like!  Then use it the rest of the year, because who says hot spiced cranberry punch has to be limited to the winter?  The book is currently available from Book Publishing Company as well as Amazon.com
and Barnes & Noble.  Those of you with eReaders will be happy to know that digital editions are available as well!