This pie is both a treat and a triumph.  A treat because, in order to get the filling to set, you have to use full-fat coconut milk; a triumph because I would never even look at a can of the stuff before.  The only times I considered eating it were my rare forays to Thunder Mountain Curry, and even then the thought of it freaked me out.
This is one of the food fears that has lingered since my struggle with anorexia, and I never tried to conquer it before because it didn't seem to matter much.  However, the recipe for S'mores Pie–which appears in the gorgeous Vegan Desserts
by Hannah Kaminsky–made it clear that light coconut milk wasn't going to cut it.  If I wanted to do the pie up right, I was going to have to bite the bullet and use the real stuff.
Making the pie turned out to be quite the process, but it was a process worth going through.  Vegan Desserts is all about being creative; every single recipe is unique.  To that end, the back section of the book gives you ways to make your own odds and ends, including cookie and graham cracker crumbs.  Graham cracker crust is the obvious foundation for S'mores Pie, so homemade graham cracker crumbs it was!  Finding graham flour led me on a short odyssey which, fortunately, ended in my being able to pick up that scary can of coconut milk at a good price as well, so all was set.
Starting with the crumbs (which make the kitchen smell amazing, just so you know), I made the whole pie in one go.  All I had to do for the filling was melt a bunch of semisweet baking chocolate into the coconut milk, pour it in the baked crust and let it set in the fridge.  Instead of using the whipped vegan marshmallow topping from the recipe, I pulled out a tub of Ricemellow Creme that I picked up over the summer and spooned about a cup and a half of it over the set filling.  Then it was into the freezer to set the rest of the way.
The final step is the most fun.  Before serving, the pie comes out of the freezer and gets put under the broiler to give the topping a "roasted marshmallow" look.  (This also makes the kitchen smell amazing.)  The end result is a bit of browning on top and just enough softness in the ganache center to be able to cut the pie and eat it.  I wound up cutting it into eight big pieces, which I then subdivided into sixteen smaller ones.  Yes, it is that decadent.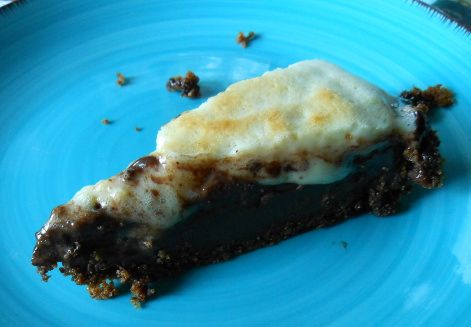 Decadent, smooth, creamy, rich and definitely not something I'll be making again any time soon.  I'm not scared of coconut milk any more, per se, but I haven't developed an enthusiasm for it either!
Before indulging in such a heavy dessert, it made sense to have a solid, healthy meal.  Since I'm such a big fan of "the bowl" in general, I decided to try the lovely vegan "Buddha bowl" from I Eat Trees.  It's chock full of a bunch of stuff that I love: quinoa, beans, onions and peppers, kale and even a little vegan sausage.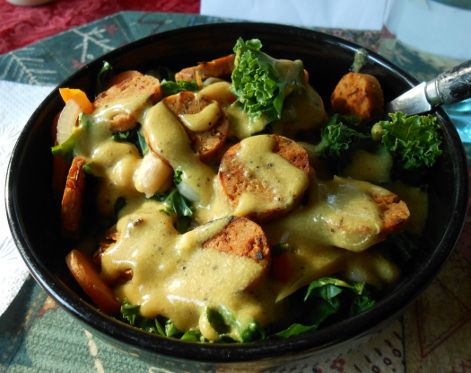 I really liked this bowl!  The sauce used a bit of white vinegar in it, which I've never done before, and the flavor was great.  It had just a bit of zip and was as filling and nutritious as any "the bowl" should be.  Plus, it was pretty.  Though it was a little more involved than the other bowls I make, I enjoyed putting it together and enjoyed eating it even more.  Together with the pie, it made a lovely dinner.
Are there any foods that freak you out?  Have you managed to overcome those fears?