I find that it's impossible to go to the farmer's market and come home only with what I intended to buy.  Inevitably, I'm tempted by some produce I don't really need, but suddenly can't leave the market without.  This never happens at the grocery store, which I suppose makes sense.  At the store, you can get whatever you want, whenever you want, all year long.  But at the farmer's market, each thing you see is precious.  Its presence is dictated by the season, the weather and the growing practices at each particular farm.  You develop relationships with the people you're buying from and learn which vendors are best for which foods.
I have an apple spot, a kale spot and a spot where I pick up microgreens as a treat.  I know who will have peaches and who's likely to have a good bunch of beets for a decent price.  (And as of last week, I know who has awesome bi-color sweet corn.)  It was as I was  moving from spot to spot that I discovered this: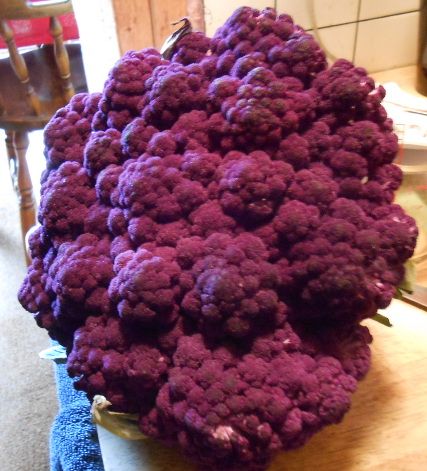 LOOK AT HOW HUGE IT IS.  The color is what drew me at first, but the size…wow.  I love being able to get a huge head or bunch of something for a flat price, so of course I snapped up this beautiful purple cauliflower without a moment's hesitation.  Then I took it home and vindaloo'd the heck out of it.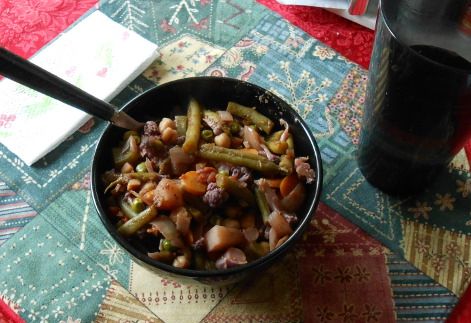 Vegan Fire & Spice is my go-to cookbook when I want something pungent or spicy.  In this case, the vindaloo vegetables called for a hot chile.  Fortunately for me, the hot pepper plants I got at the co-op this year have resulted in the first truly successful pepper crop I've ever had.  (I suspect it's because someone else got them started for me.  Turning seeds into edible food is not my forte.)  That along with the proliferation of fresh produce in the rest of the garden, at the farmer's market and at a small local farm stand gave me quite a lot of what I needed for the dish.
From the garden:
peas
green beans
Hungarian Wax pepper
From the farmer's market:
carrots
big purple cauliflower
From the farm stand:
There were onions and potatoes as well, both of which wound up dyed a lovely purple from the cauliflower.  The whole dish was amazingly colorful and, of course, veggie-ful.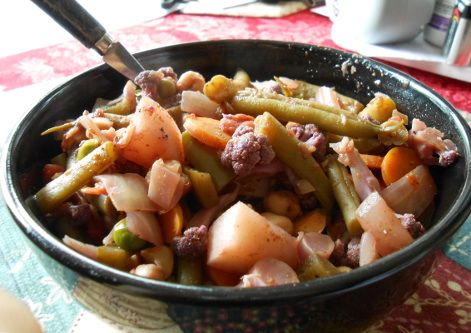 I can't think of a much better way to use the bounty that's available at this time of year.  It doesn't matter what type of cuisine it is–Indian like this vindaloo, Italian with some garlic and herbs, or Asian with soy sauce and sesame seeds–being able to combine a bunch of fresh, local veggies into a delicious finished dish pays homage in some way to that connection you can only get shopping close to the source or growing your own food.
And sometimes you get something really awesome, like a huge purple cauliflower.