Lately, I've been learning to eat more seasonally, not only from our own garden but also from the farmer's market and grocery stores.  In the past, I had a very rigid schedule of what I ate and what day I ate it on, so there were always set amounts of certain foods in the house no matter what time of year it was.  I would grab things like peaches and cherries when they appeared, but somehow I couldn't let go of the idea that I needed other foods even if they weren't as fresh or local as they should be.
This year, though, I'm re-discovering the joys of picking or buying things that are fresh and using them in recipes.  Take green beans, for example.  Every year, the QV garden explodes with them.  We haven't been weighing this year's harvest like we did last year, but I can tell you we've already gotten a lot, and there are more coming.  It seems like we're always either picking them or putting them up.  Since there are so many, I've been snagging a few here and there and making them part of dinner.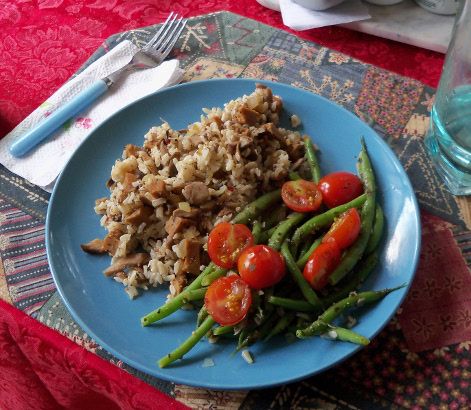 This super-colorful plate started with my stumbling upon Italian Rice with Seitan and Mushrooms in 1,000 Vegan Recipes
.  Or perhaps I should say re-stumbling.  (Is that a word?)  Being the big rice and bean fan that I am, I'm always paging through the rice sections of cookbooks, and this in particular stood out to me since it was different from what I usually do with rice.  But one thing the recipe lacks are colored veggies.  It's not meant to be a veggie-ful dish; in fact, the portion sizes work out to be more like an entree in need of a veggie side.
Hence the green beans.
Over in the "Veggie Sides" section of the same book, there turned out to be a recipe for Green Beans and Grape Tomatoes.  I didn't have any grape tomatoes, but I did have a pint of cherry tomatoes from the farmer's market.  And not only did I have green beans, I had green beans that my mom and I had picked that morning.  Does it get any better than that?
The cool thing about both these recipes was the seasoning.  Both centered around garlic, basil and fennel seed as their major flavor components.  Unfortunately, I wasn't able to use the fresh basil that the green bean recipe called for.  However, I did remember to buy some fennel seeds at the co-op.  For ages I've been tossing in licorice root where recipes call for fennel, since I once read that it made a decent substitute.  And it has worked well.  Having the actual fennel, though, made a big difference in these recipes.  The smell and the flavor are so distinct.  In combination with the other seasonings and lots of black pepper, it made for a deliciously unique dinner.  I especially love biting into fresh, warm tomatoes; there's nothing quite like the texture!
I've been doing a lot more with green beans, as you'll see in upcoming posts.  For now, though, I want to know: what are you doing with the produce from your garden or local farmer's market?  Share your favorites!  I love cooking inspiration.