I recently gushed about Bridge tofu on Facebook, and I'm here to do it again.
Normally when I want tofu, I do what I do with a lot of foods: wait for a sale and stock up.  This usually results in my bringing home various consistencies of Nasyoa and freezing the ones I don't use right away.  But it's been a while since the last tofu sale and, on a recent trip to the co-op, I found myself browsing other options.  The Bridge brand caught my eye for several reasons: it's handmade, it's fairly local and it only has a few ingredients.  Bonus?  It's cheaper than Nasoya!  So I picked up a block and took it home, wondering what to make with it.
I wound up choosing Tofu Chimichurri from Appetite For Reduction.  Apparently chimichurri is traditionally an Argentinian steak marinade, but I'd never heard of it before.  The recipe was fairly simple and included fresh herbs, which meant I was able to utilize awesome stuff from the farmer's market again!  There are also things that look and taste remarkably like shallots growing in my grandmother's backyard, so I used some of those too.  (We're not sure where they came from, but they're tasty!)
I'll admit to cutting corners and using a mini food chopper instead of the food processor to prepare the marinade, which I think is to blame for the fact that I ran out of it while the tofu was cooking and had to use some water to finish up.  It wound up chunkier than I think it was supposed to; the herbs definitely could have been pureed more.  But flavor-wise, I'd call it a resounding success.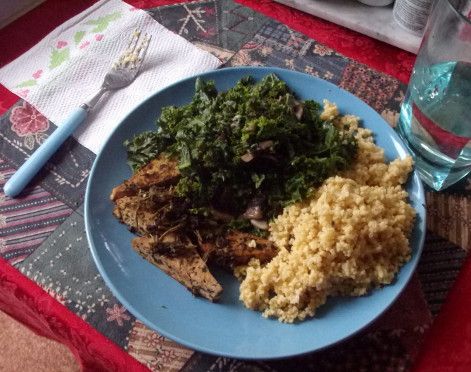 Which is kind of funny, because you figure tofu is tofu, right?  Wrong.  And wrong in such a good way.  Bridge is the best tofu I've ever had!  No exaggeration.  It's smooth and it cooks up with a "bean" taste that's rich but not overwhelming.  I've had mixed success with marinated tofu in the past, but this stuff browned well, firmed up, and wasn't soggy at all–sogginess being, of course, the bane of a tofu eater's existence.  I'm used to tofu being a bit spongy, and I thought that was just the way tofu was.  But the stuff from Bridge had great texture.  Suffice it to say, I'm spoiled now.  I don't think even a really good sale could get  me to go back.
I made Garlicky Mushrooms & Kale, also from Appetite For Reduction, along with some millet cooked in broth to bring it all together.  It was one of those meals that used simple ingredients, didn't take a lot of effort and tasted amazing in the end.  I'm coming to like those more and more on the days that 1) it's too hot to care much about food and 2) I'm too busy to go for something more elaborate.
Have you ever tried handmade tofu?  What did you think?